6th Grade Art:
This week in art, we finished up our
letter sculptures
! Next week, we'll photograph them for Artsonia and get them graded so that they can go home.
Today, we started our final project for art - a
class comic book
! Our theme this term is "If I was the teacher..." and students will each create one page for our book. The end result should be pretty awesome! We looked at the work of some other comic artists/cartoonists for inspiration.
Also today, we turned in our second
sketchbook drawing: a room design in 1-point perspective
.
7th Grade Art:
Today was the start of our
pop can drawing
assignment! Students brought in a can of pop and were allowed to drink it in class while working on an observational drawing of the can. These pictures will be colored using oil pastels. We will work on them all through next week, and they will be due next Friday, May 30th.
The beginning of the week was spent finishing up our
monochromatic self-portrait paintings
. Those will be graded and uploaded to Artsonia soon! We also have a
sketchbook drawing (black and white hand/contour drawing)
due next week on Wednesday, May 28th.
8th Grade Art: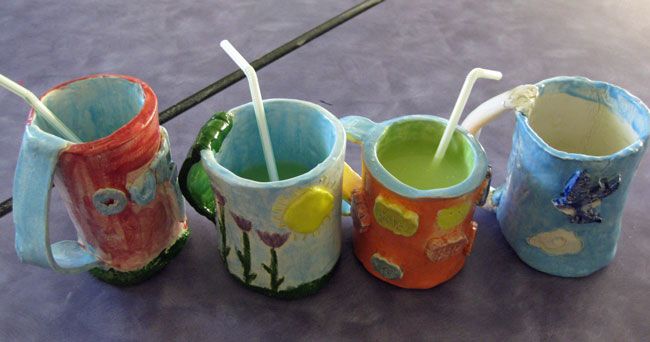 This week, we brought our
ceramic mugs
home! Today, we drank lemonade out of our mugs to celebrate the conclusion of the unit, and took our work with us at the end of class.
We spent the earlier part of the week finishing up our
8-Bit/Excel art unit
, and catching up on any other missing work. Students took screenshots of their Excel designs and uploaded the images to Artsonia using "classroom mode" on our laptops. They also wrote short artist statements about their work, explaining the choices that they made in their designs. You can check out our
gallery of designs on Artsonia here
.
In other art news...
I have some SUPER EXCITING news to share!
One of our seventh graders, Jack R, was selected to be a part of the IAEA (Illinois Art Education Association) Student Art Show!
Sixty-two art teachers throughout the state of Illinois submitted over 725 artwork entries for selection, and only 40 pieces are ultimately chosen to be a part of the show. Jack's observational colored pencil drawing of an aluminum can in various stages of crush was one of only two artworks created by seventh graders in the collection. This show will be on display at the IAEA conference this fall, and at various other locations throughout the state as the show travels from October 2014 through June 2015.
Jack's work will be professionally matted and framed for the duration of the show, and there will be a reception honoring the winners, their parents, teachers, and administrators on November 8th, 2014 at the IAEA fall conference in Lisle, IL.
Congratulations Jack! What a great honor!
Thanks for another great week!
- Mrs. L.