6th Grade Art:
This week, 6th grade students finished up their
comic book pages
for final printing/assembly/distribution, which will be on Monday. They also took a few days on Wednesday and Thursday to photograph and upload their
letter sculptures
to
Artsonia
before taking them home for good! I made
a short video (with a little help from a 6th grader!) all about the process of uploading to Artsonia using "Classroom Mode"
via the iPad. Check it out above!
7th Grade Art:
This week, 7th grade students finished up their
oil pastel drawings of pop cans
. (insert "Pop Art" pun here.) At the end of class today, students turned in their drawings, and recycled their aluminum cans. Art grades will be finalized over the weekend!
8th Grade Art: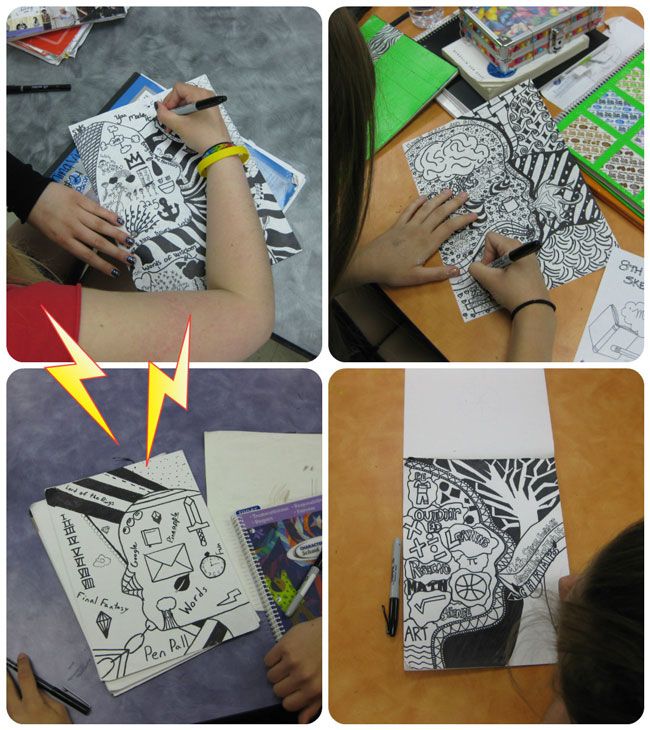 We're in the home stretch! Almost on to the high school! Our final drawing assignment was a
"trace your face" profile
, which was then filled in with black and white designs with the theme "Middle School Memories..." It's been really, um, interesting to see what students pick to represent in their drawings! Some fond memories, some not-so-fond, and lots and lots of inside jokes that I'm clearly not in the loop for! Overall, it's been a fun way to look back on our middle school experience and put it into our art!
Here's a quick how-to video below for tracing your face. Have you ever tried this? It really works!
In other art news...
Next week, I'll be announcing the winners of our
promotion program cover contest
, and the
agenda cover design contest
at the honors assembly! So, be on the lookout for the results after that time! How exciting!
Thanks for another great week!
- Mrs. L.