6th Grade Art:
This was our last week of art class!
We spent the week working on our comic book project, where each student designed a 1-page story in the theme of "When I Grow Up..."
On our last day, each student stapled together their very own copy of the final comic book! We read our books in class and had our classmates autograph the back pages!
After break, a digital version of our comic will be available on the
6th grade webpage
. If you open it using iBooks on your iPad/iPod/iPhone, you can flip through the pages just like a real comic book!
View our past comic books here
.
Also after break, copies of our comic books from terms A-C will be made available at
Elijah's Coffee
in downtown Elmhurst for you to read as you relax and sip your coffee! How cool!
7th Grade Art: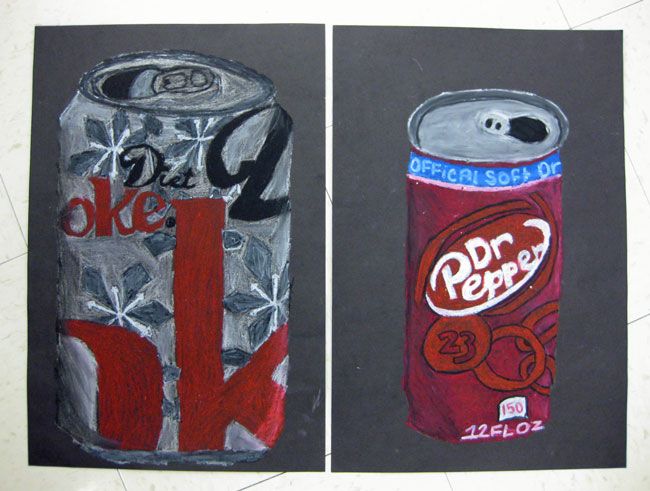 For our final week of art in 7th grade,
students worked on creating oil pastel drawings of pop cans from observation. We really tried to concentrate on adding shading, shadows, and highlights/reflected light to our final drawings.
Oil pastels make it really easy to blend colors because they are so soft - you can draw right on top of other colors, and use your hands to blend the colors together! So messy, but so fun! The final drawings will be made available for viewing on Artsonia after break.
P.S. Have you checked out our
monochromatic portraits
and
op-art drawings
on Artsonia yet? They're up now, and they're awesome! Via Artsonia, you can have your artwork printed onto all kinds of fun things - even
a phone case
!
8th Grade Art: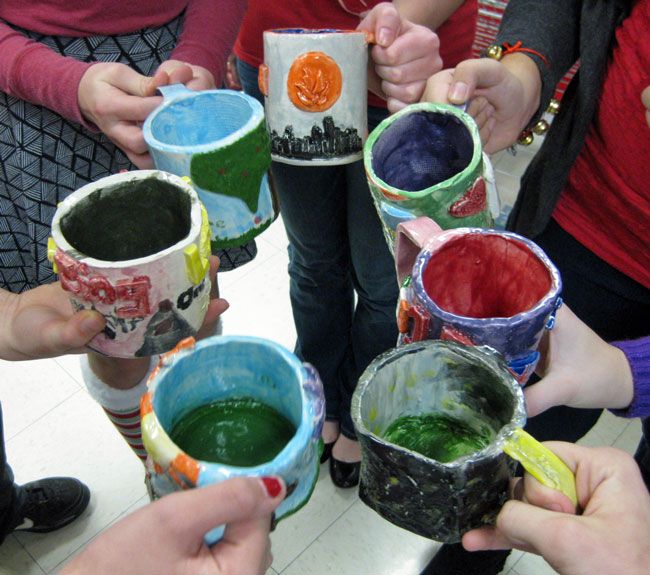 This was the last week of art for 8th grade students, too! Time has flown by so fast, I can't even believe we are half-way through the school year! Whoa!
To celebrate our last day of class, we enjoyed some hot chocolate in our ceramic mugs, and watched my favorite episode of the Simpsons, where
Homer becomes an artist
!
Students who completed all of their artwork before the end of the quarter spent some fun time creating art using
perler beads
. It was a natural extension of our pixel portraits unit, since it involves designing an image using a grid! By the way, have you checked out our
pixel portraits on Artsonia
? They turned out really great, and I've already had a bunch put up onto a bulletin board outside the main office!
In other art news...
There are a few weeks left to buy a mini mug at
Elijah's Coffee
in downtown Elmhurst to support the
UCCA
food pantry, so be sure to stop by! I just dropped off a new batch from Quarter 2 students earlier this week!
...and, of course...
...because it's the last day of art! Grades will be finalized during winter break. When we return, all students will report to their new UA class for Quarter 3/Term D!
Thanks for another great week, and have a great winter break! See you next year!
- Mrs. L.