6th Grade Art: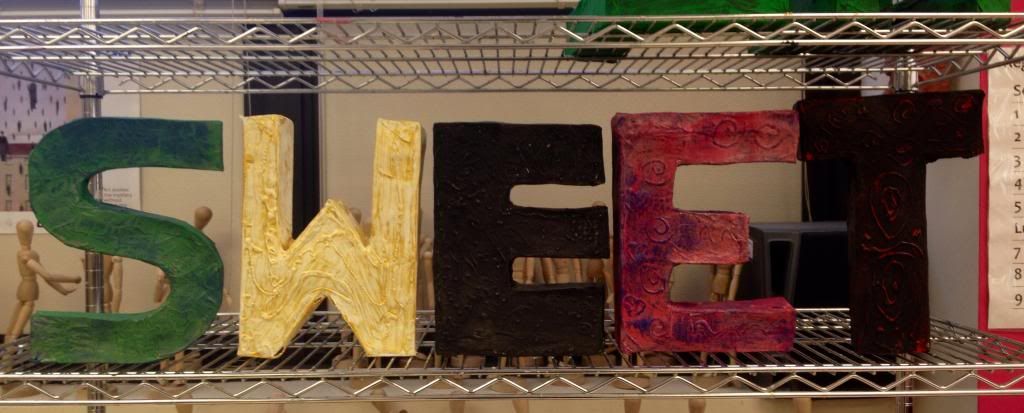 This week, 6th grade students finally finished their letter sculptures! These have already been graded, but they will go home next week after we photograph and upload them to our Artsonia gallery - students will do this themselves via the iPads!
Our painting was done in two layers: first, an acrylic "base" coat, and then a tempera "wash" top coat, which gives a textured/aged feel to the final piece.
Also - on Friday we turned in our 1-point perspective room designs, and had an intro to drawing techniques (hatching, cross-hatching, stippling, and doodle) for our comic book project, which will be done next week!
Next week is the last week of art! Whoa!
7th Grade Art: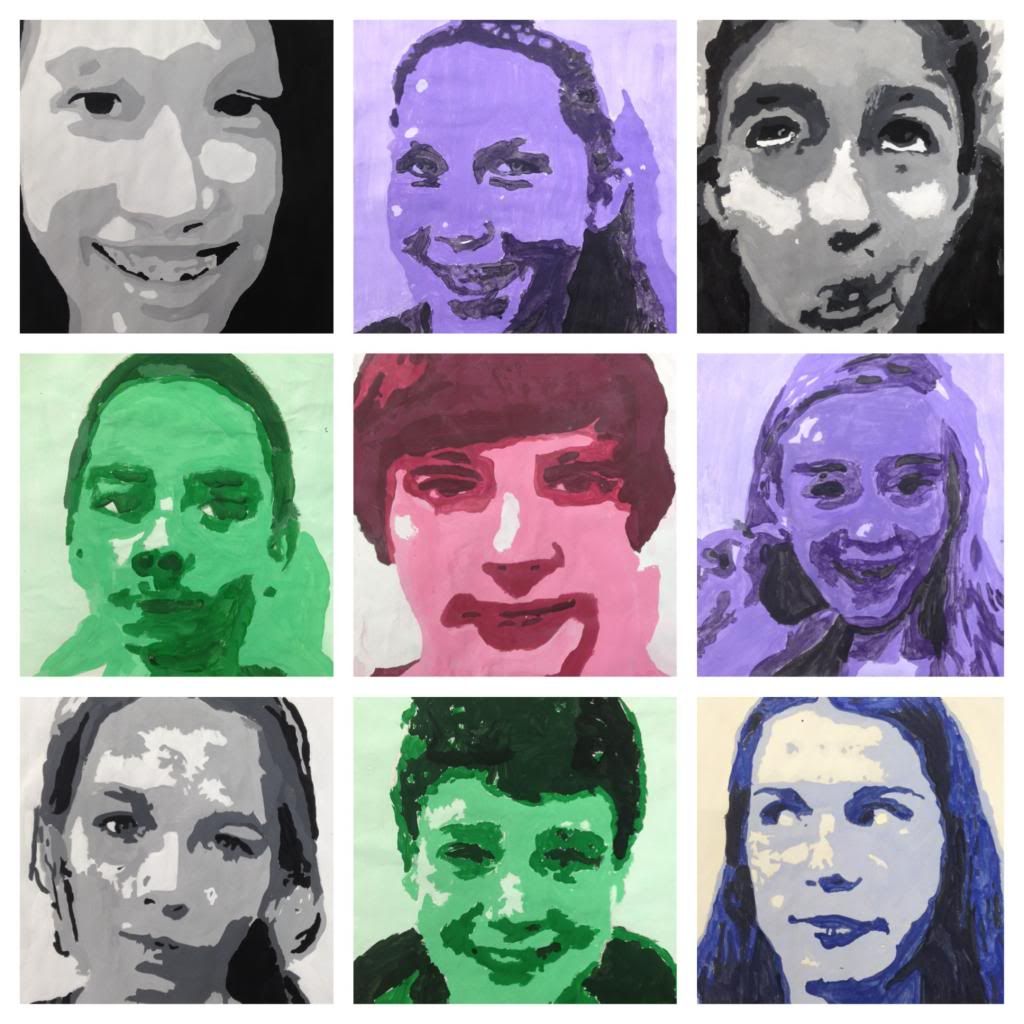 This week, 7th grade students finished their monochromatic self-portrait paintings! We spent a day gluing our paintings to black background paper to give them a framed effect, and filling out self-assessments and reflections on our work.
We also turned in our Op-Art sketchbook assignment on Wednesday. These have already been graded and entered into Powerschool. With the end of the quarter (and all three grade levels at once), there is a slight delay in getting artwork photographed/uploaded to Artsonia - but it WILL happen, so stay tuned!
On Friday, we began our final art project: an observational drawing of a pop can using oil pastels. Students brought in cans of pop and were allowed to drink it in class while starting their drawing! How fun!
8th Grade Art:
Eighth grade students are completing several projects all at once (such is the curriculum of 8th grade art!): our pixelated portraits were due today. You can see a few detail shots from some student pieces above. We also turned in our third sketchbook assignment: a "master" copy. The sketchbook assignment has already been graded and entered into Powerschool. Pixel portraits are in-progress (as far as grading goes).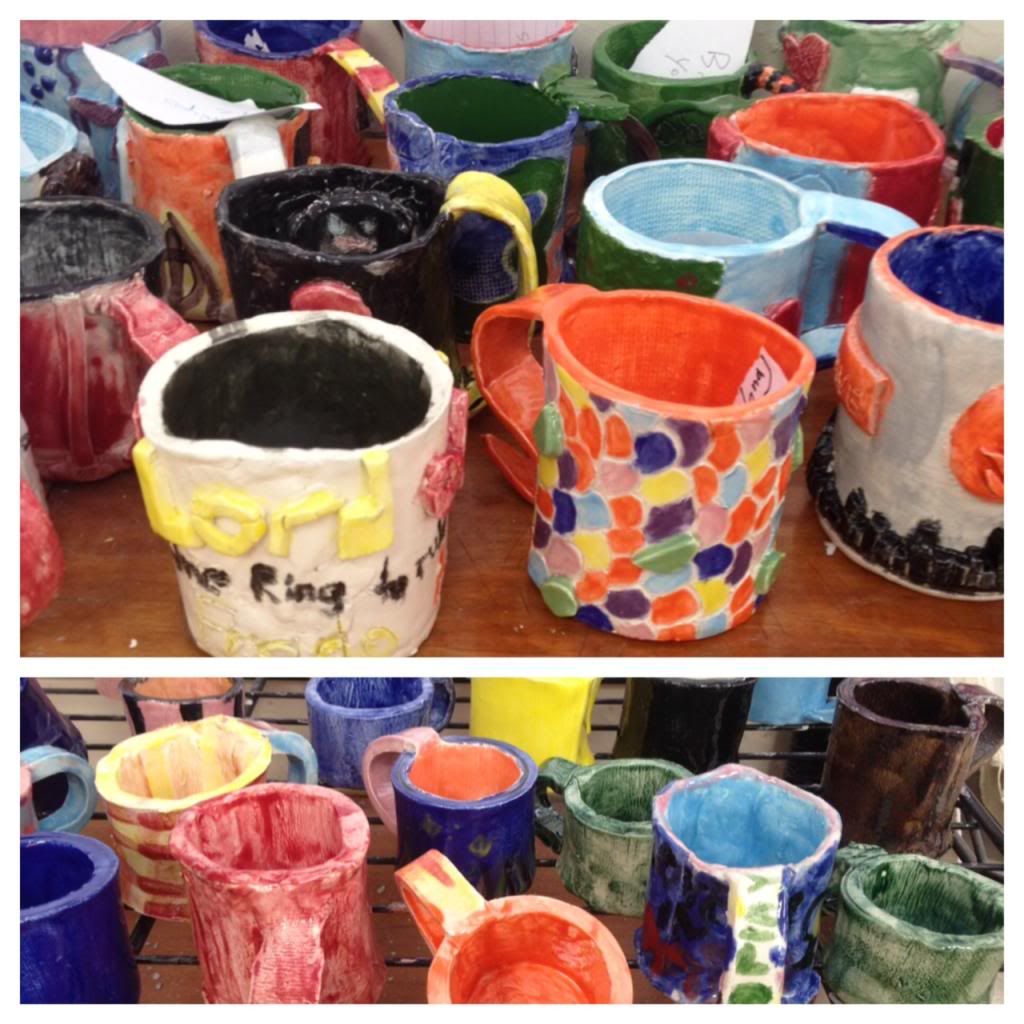 Also, we finished our ceramic mugs! On the last day of class (next week Friday), we will get to enjoy some hot chocolate in our mugs! Mugs have already been graded and entered into Powerschool. I'm also in the process of uploading images of the mugs into Artsonia, so be on the lookout soon.
Next week, we'll be completing our fourth (and final) sketchbook project: a promotion program cover design for this spring!
In other art news...
It's time to sign up for winter art classes at the
Elmhurst Art Museum
!
Kids classes for ages through 14 years
are listed here
.
Teen classes (including a Stop-Motion Animation class for ages 11-14)
are listed here
.
* * * * *
Norman Rockwell's Saying Grace became the most expensive American painting ever sold at auction last week, fetching $46m at Sotheby's in New York
.
Want to know which painting/artist has fetched the MOST money, EVER?
Click here
.
Thanks for another great week!
- Mrs. L.