6th Grade Art:
This was a big exciting week for us! We began covering our letter sculptures with paper mache. It was messy and fun! Students who finished early had time to work on the sketchbook assignment, which is due next Friday (December 13th) - it's a drawing of a room, using 1-point perspective.
Today, we applied puffy paint to create texture on the front of our letter sculptures. Next week, we'll finish up our sculptures by painting them!
7th Grade Art: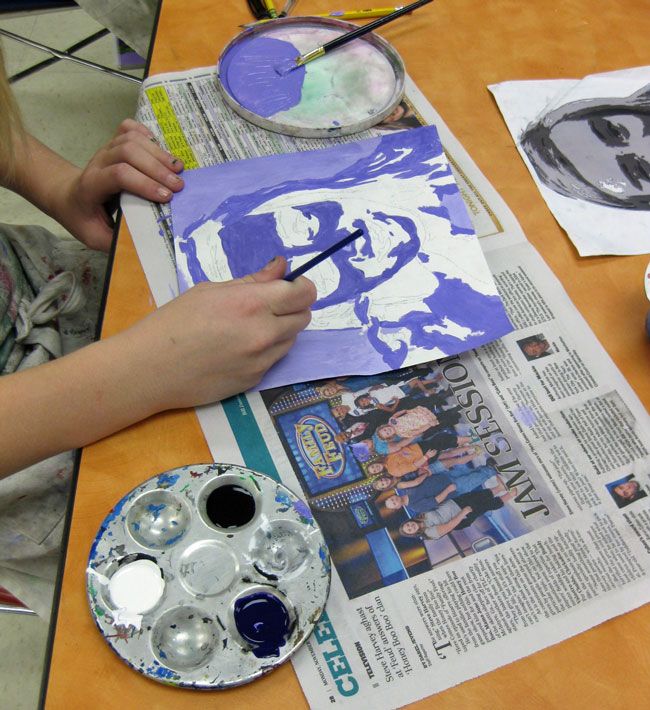 Seventh grade students began painting this week! On Monday, we completed a practice worksheet where students painted value scales in four different color choices. We then chose one of the monochromatic value scales to use for our final monochromatic portrait paintings. Tuesday through Thursday were spent painting out final portraits, and Friday we worked on our sketchbook assignment, which is due next week on Wednesday. (It's the Op-Art inspired black and white drawing!)
8th Grade Art:
Eighth grade students had a pretty fun week because it was glaze week in the art room! We are applying the colored glazes to our bisque-fired clay mugs. Hopefully we'll even have them all fired by the end of next week!
I'm going to give eighth grade students the opportunity to purchase their mini mug before I make them available to the public when they're sent off to Elijah's to join the rest of the artwork for sale. More details next week.
On Friday, we continued work on our sketchbook assignment: a master copy. This drawing will be due next week, December 11th.
In other art news...
Don't forget to stop by
Elijah's Coffee
in downtown Elmhurst to buy your mini mugs to help support the UCCA Food Pantry - now and all through the holiday season - only $5 per mini mug!
ART CONTEST!
- Want to win an iPad? Then enter the
8th Annual Metra Safety Poster and Essay Contest
. One poster winner will be chosen from each grade! Full details and contest entry information is available at
www.metracontest.com
Thanks for another great week!
- Mrs. L.