Remember: Ms. Heuel is currently our student teacher in the art room until May 9th. Mrs. Leban will still be blogging about what's happening in the art room in the meantime, but the day-to-day happenings and lessons are all being run by Ms. Heuel!
6th Grade Art: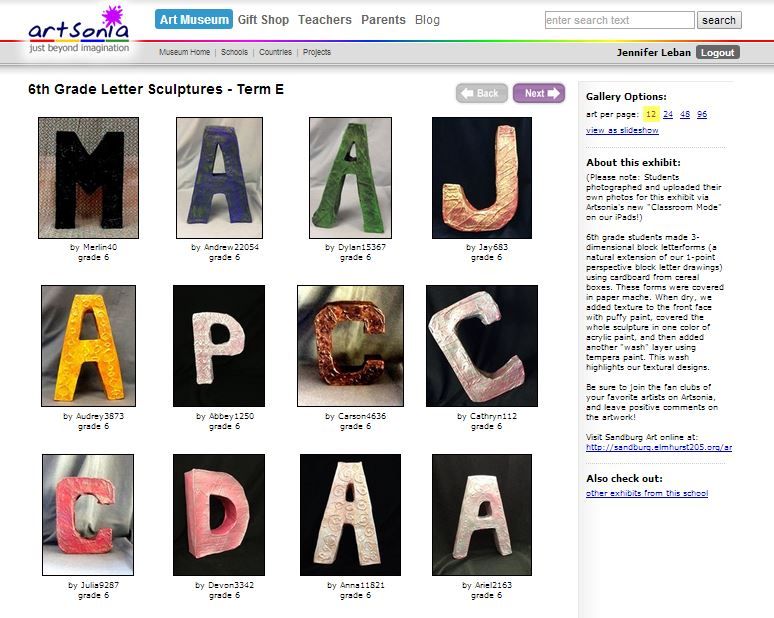 This week, 6th grade students finished up their
block letter sculptures
. On Thursday, students used the iPads to photograph and upload their own artwork to
Artsonia
! How cool! Students are currently working on artist's statements, which will be uploaded along side their artwork on Artsonia very soon. On Thursday, students also turned in their second sketchbook assignment, a
1-point perspective room design drawing
. After spring break, we have a fun activity to complete with these drawings, so be on the lookout! We'll also begin our
comic book unit
right after break, too.
7th Grade Art: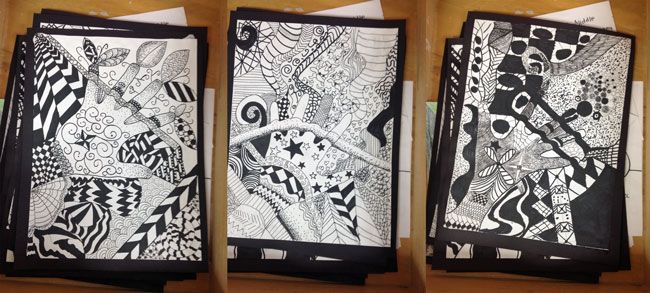 This week, 7th grade students finished up their
monochromatic self-portrait paintings
and matted their work on colored paper. They also worked on their second sketchbook assignment, which was due today, Friday. This sketchbook assignment was our
Op-Art inspired black and white design drawing.
8th Grade Art: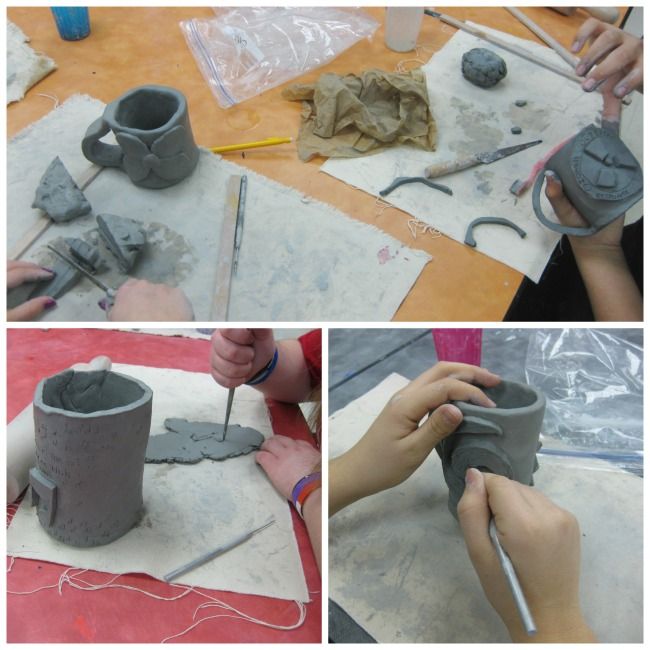 This week, 8th grade students made the big push to complete all of their
clay construction
before spring break. This way, all of the clay can air-dry over break and be ready for kiln firing when we return. It's important for clay to be completely bone dry before going into the kiln so that it doesn't explode! Yep, that's a real thing.
On Thursday, students turned in their first sketchbook assignment: a
program cover design for the promotion ceremony
at the end of the school year. Usually, this assignment is completed at the end of the quarter, but it had to be flip-flopped this time around due to it being 4th quarter and needing to start getting decisions made and finalists chosen! And that's kind of exciting!
When we return from break, we'll be beginning a new unit on drawing, starting a new sketchbook assignment, and thinking about firing and glazing clay. We sure will be busy!
In other art news...
CREATIVITY CHALLENGE UPDATE!
This was the last week of the creativity challenge, and our winners were chosen this morning LIVE on Spartan TV! Congratulations to our winners, listed below!
6th Grade: Sophia R.
7th Grade: Kaitlyn T.
8th Grade: Alexis D.
Teacher Winner: Mrs. Provost
I did also receive some awesome entries this week for our Youth Art Month/Creativity Challenge contest, so I thought I'd feature some of our final favorites here below: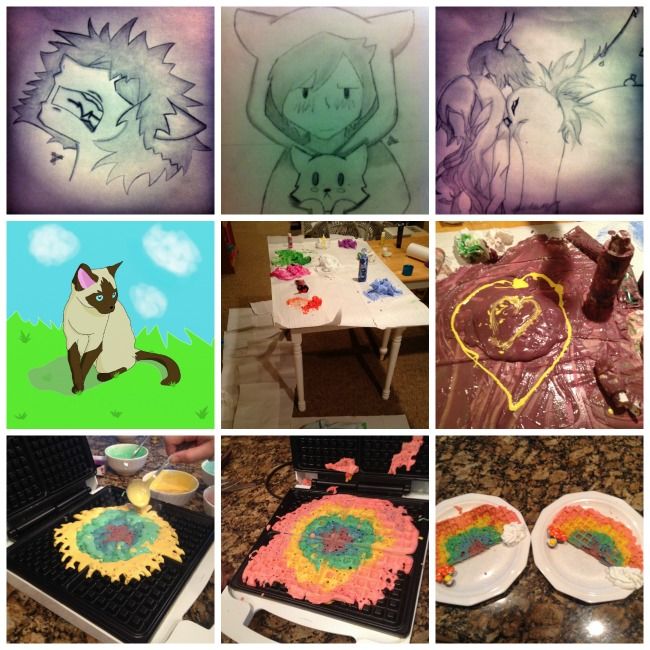 The artwork above was all made by
6th grade students
! The top three pencil sketches were made by
Sophia R
, and the digital cat portrait in the middle row was made by
Isabella D
.
The last two images in the middle row (
above
) are shaving cream "sculptures" made by a group of
6th grade girls (Corinn, Mikaela, and Gabrielle)
at a very artistic and creative sleepover party! In the morning, they even made the cool rainbow waffles for breakfast (
pictured in the bottom row above
)! Great work!
Above:
More cool artwork! The top three pieces are all done by
7th grader Scarlett
. The middle row images are the bottlecap magnets (first mentioned in week 1) by
8th grader Georgina
, and the last row is artwork by
Erin in 7th grade, Ellie in 8th grade, and Billy in 7th grade
.
Esther P in 8th grade
sent me this photo of a mixed media artwork she created using newspaper collage and string to make a flower!
Gracie in 8th grade
sent me this AMAZING speed paint video of a cat that she drew! I'm totally blown away! I'm trying to teach myself digital drawing on the iPad, so I'm familiar with how difficult it can be, and I am very impressed!
Thanks for another great week! And have a GREAT SPRING BREAK!
- Mrs. L.