Miss Heuel is our new student teacher in the art room at Sandburg!
She'll be joining us from now on until May 9th. Miss Heuel is a student at the University of Illinois, and she is a former Sandburg Middle School student! I'm feeling pretty old right now... I can't believe that I taught her when she was in middle school!
6th Grade Art:
We accomplished so much this week! (Maybe it just feels like a lot compared to last week's ISAT schedule...) We turned in our first sketchbook assignment on Monday, and wrote artist statements about our work. Those will be posted alongside our artwork on Artsonia very very soon, so be on the lookout!
On Tuesday and Wednesday, we began our block letter sculpture project! We cut out our cardboard pieces from cereal box cardboard (we like to be earth-friendly and recycle), and began taping pieces together to create the letterforms.
By Thursday, we were ready to start sketchbook assignment #2 - an interior design room drawing that utilizes our 1-point perspective drawing skills! This will be worked on concurrently with the sculpture project, and will be
due on Thursday, March 27th
.
Today, we finished up our letterforms and hopefully will be ready for paper mache on Monday - so messy, but oh so fun!
7th Grade Art:
This week, seventh grade students turned in their first sketchbook assignment: surreal 2-point perspective landscapes. Be on the lookout for these drawings on Artsonia very soon! Students also wrote artist statements to be posted alongside their drawings.
We also started our painting unit this week - students used portrait photos taken via Chromebooks and Pixlr-O-Matic (at the end of last week - we saved them to our Google drive) and altered them on the laptops using Adobe Photoshop software to convert the photos to four levels of value. We'll use these printouts as "maps" to paint our final artworks next week.
To prepare for painting, we practiced making value scales in a variety of colors and mixing tints and shades. This way, we'll be experts when it's time to begin our final versions!
8th Grade Art: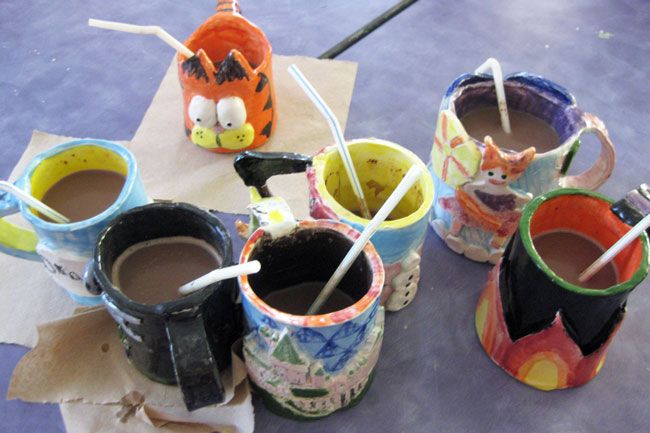 This week was the last week of art for Quarter 3!
Are we really already 75% of the way through the school year? Whoa! We spent this week working on our final sketchbook assignment, which was a design for the promotion ceremony program cover. Finalists from the entire school year will be voted on by 8th grade teachers, and the winning design will be featured on the cover of the 8th grade promotion program. How cool!
This week, our ceramic mugs were finally fired and ready to go for the last day of class! On Wednesday, students photographed their ceramic pieces and uploaded them to
Artsonia
using the iPads via classroom mode.
Check them out here
. On Friday, we got to enjoy the "functional" part of our art by having hot chocolate in our mugs to celebrate the last day of class! Yay!
In other art news...
CREATIVITY CHALLENGE UPDATE!!!
Mrs. Provost reported that 7th grade sewing students are hand sewing and making customized "felt friends." Look for them next week in the display case by the cafeteria. 6th grade foods students just competed in a Kitchen Safety Poster Contest. Look at all the great entries on the walls around the gym and FCS rooms. And 8th grade students will be making Snickerdoodle cookies. They have also been cooking MyPlate meals at home for their families!
Mrs. Beg is still going strong, sending me tweets every day about her creative things going on over at Churchville! One of the latest coolest things she's done is this video she posted.
Ian S. and John Y. in 8th grade both brought in drawings that they made in extended seminar on Tuesday.
Hanna H. in 6th grade emailed me to say that she "played Ludwig van Mozart's 9th symphony (part of it not whole thing) by ear on the piano." How fun!
Alexis D. in 8th grade sent me four different awesome digital photo collages! (I can't post them here because they have photos of herself in them, but I promise you that they're super cool!)
Yearbook club students sent me a photo of this creative pose: Go ART!
Mia L. in 6th grade sent in these super cute Pony drawings!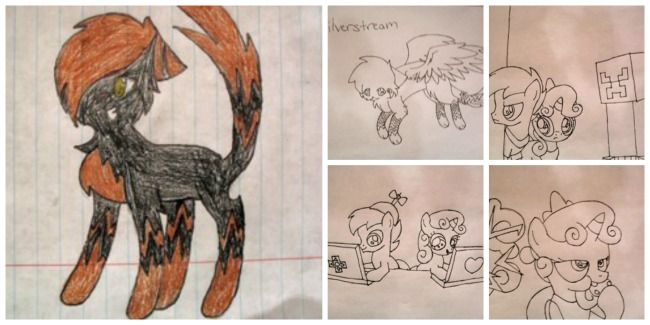 Mrs. Morser sent me two different

#creativitychallenge

e-mails: one of her St. Patrick's Day-themed seminar door, and another showing off her mad photography skills after our crazy snowstorm this week: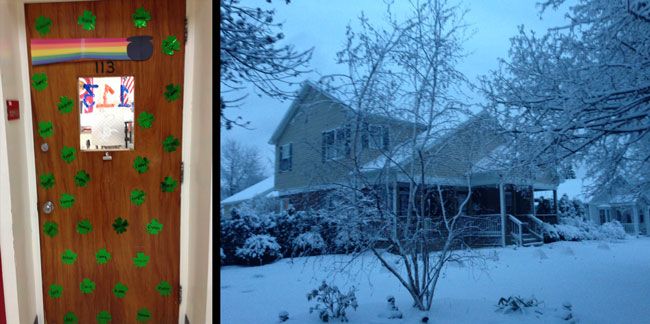 Mrs. LaPenna sent me an e-mail with only two words: "CHALLENGE ACCEPTED."
Mr. Mascheri has some crazy creativity talent when it comes to creating sets and props for the school plays at both Sandburg and Churchville! Check out some of his work below: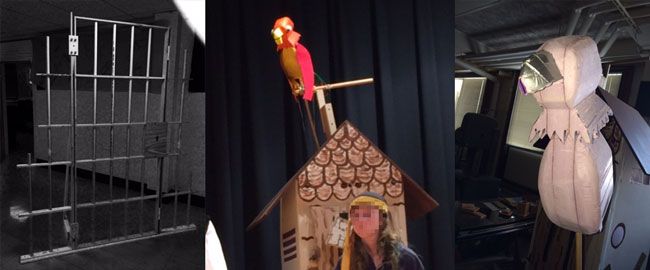 Jason B. in 6th grade sure does love Pi Day today. And it's creative. Double win!
Mrs. Gates is totally crafty! She made an Olaf for her daughter's Frozen-themed birthday party: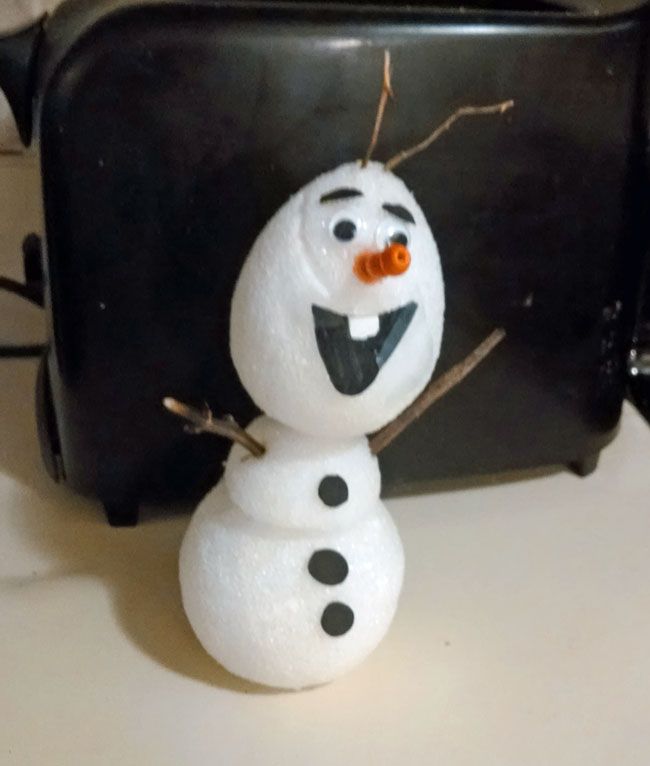 Arianna K. in 6th grade created all kinds of beach-themed decorations for a quinceanera party in Spanish class - how cool!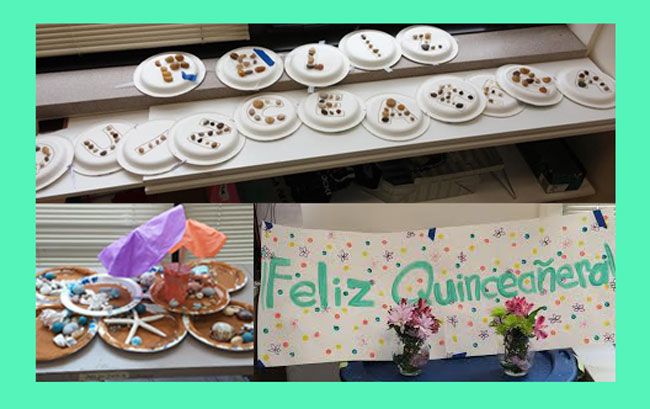 Amanda K. in 6th grade sent me some of her drawings (both digital and pencil/paper) for the creativity challenge:

Anthony D. in 6th grade sent me a photo of a cool drawing that he made:
And Mrs. Bensfield sent me pictures of her hand-crocheted creations - made without a pattern! You've probably seen Mrs. Bensfield's creations before, like the cupcake hat she made for me a few weeks ago!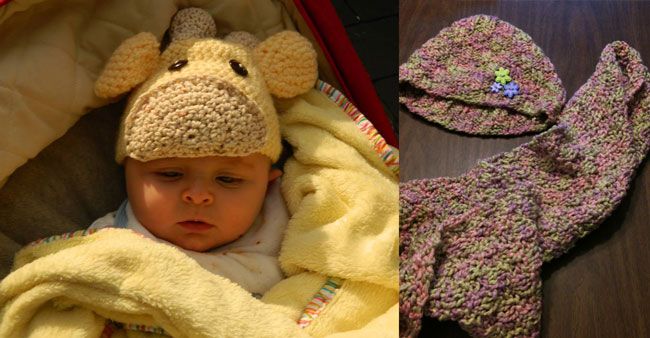 Phew! That's a LOT of stuff to share! You guys are AMAZING! Keep up the great work!
Thanks for another great week!
- Mrs. L.