6th Grade Art: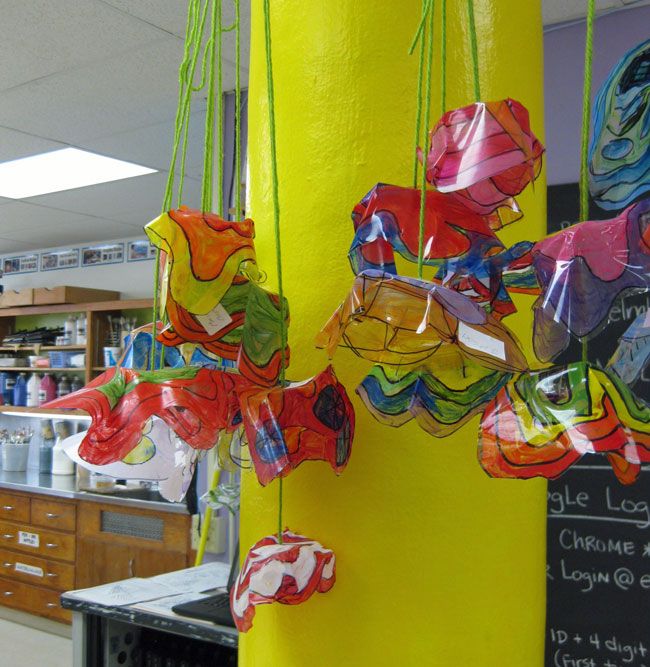 Some of our Chihuly-inspired flowers, waiting to go up in the cafeteria!
Eek! We were so busy in art class today that we didn't get a student blogger in 6th grade! Today was our last day of art for 6th grade students in Term A. Monday through Wednesday was spent finishing up our Chihuly-inspired abstract flower sculptures, which will be strung up and hung in the cafeteria at school! You can view our
Chihuly flowers on Artsonia here
.
We spent Thursday and Friday uploading our final
letter sculptures up to Artsonia here
, and having one-on-one conferences with Mrs. Leban about our drawing challenge assignment. Students chose their favorite drawing challenge drawing to upload to our
highlights gallery here on Artsonia
.
7th Grade Art:
Today was the last day of art for 7th grade students in Term A. Students that completed their work early had the chance to make their artwork TALK using the Chatterpix Kids app on the art room iPads! Here's a little preview below:
"[This week,] We worked on our painting. Towards the end of the week, we did our drawing challenge conferences. Also, anyone that didn't finish their portrait had to turn it in the no matter how far they were on it."
-Kyle S, Period 5
8th Grade Art: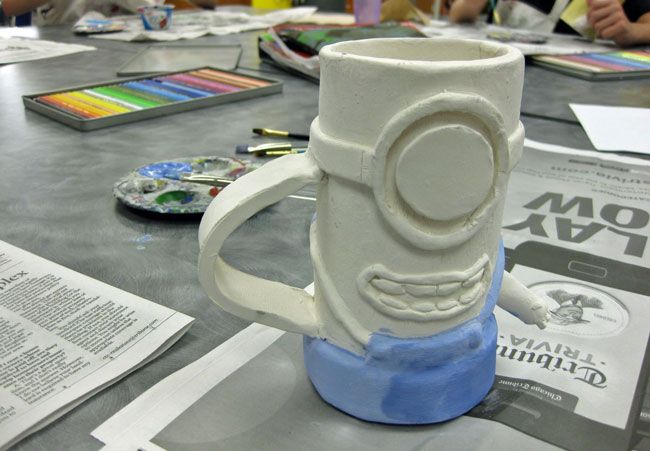 Max is making a minion-inspired glazed ceramic mug.
"In art class this week we began doing our pixel portraits. We then moved onto glazing our mugs/monster pots. Lots of kids thought that the glaze went on after you painted but then learned that the glaze is the paint! LOL"
-Max B, period 2
In other art news...
After-school crochet club started this week! If you haven't heard of crochet club here at Sandburg, now's the time to check it out! Mrs. Bensfield is the club sponsor, and they have all kinds of really awesome plans for this year!
Thanks for another great week!
- Mrs. L.