6th Grade Art:
Sergei's blue letter "S" (left), and other 6th grade creations...
"This week in art we finished our paper mache letter sculptures. Then we started painting them. My sculpture is blue, and it is the letter S."
- Sergei M, Period 9
7th Grade Art: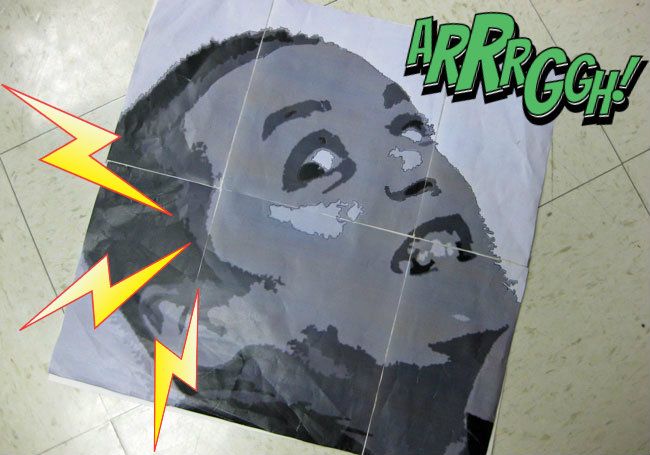 "My project is creepy because I didn't realize that I had to crop it , I actually wanted to Photoshop it to make it look like a demon (Epic Fail)."
- Alex B, Period 5
This week, seventh graders tried to make as much progress as possible on their large monochromatic portrait paintings. Students are at a variety of different stages: some still transferring their designs to paper in order to be painted, while others are closing in on a finished portrait! Hopefully next week, we can use the little time that we have (it's Outdoor Ed week) to get everyone finished up!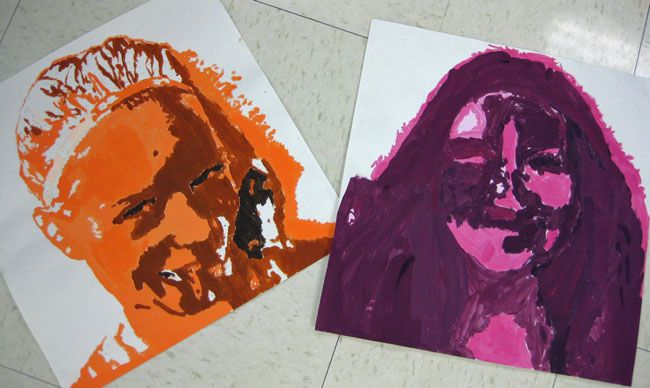 8th Grade Art:
Owen's mug, waiting to be fired...
"On Monday, we worked on clay projects that I really enjoyed. I made a clay mug that is dessert themed. On Tuesday, we continued to work on the clay projects, and we had to finish today. On Wednesday, we discussed our new project the pixel selfie! On Thursday, Mrs. Leban showed us how to use our selfie in Photoshop and create the grid on our pictures so we can draw them! Art has been a blast! We are taking selfies, and making clay projects! Art is my favorite UA and would love to have it the entire year!"
- Owen D, Period 2
In other art news...
The
Art Institute of Chicago
has released a
FREE app
called "Unthink Magritte" in connection with their Magritte exhibit, which continues until October 13th. In this app, you are invited to share your impressions of Magritte's artworks through the use of images, words, or audio - and to share your "unthinks" via social media.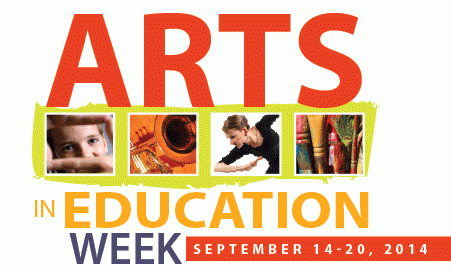 Next week is
Arts In Education week
! The NAEA (National Art Education Association) is inviting you to express why ART MATTERS to you via social media, and using their hashtag
#naeaartmatters
!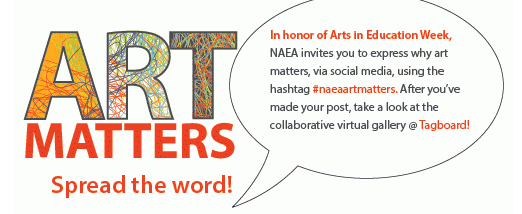 Thanks for another great week!
- Mrs. L.