Remember: Ms. Heuel is currently our student teacher in the art room until May 9th. Mrs. Leban will still be blogging about what's happening in the art room in the meantime, but the day-to-day happenings and lessons are all being run by Ms. Heuel!
6th Grade Art:
This week in art, 6th grade students applied paper mache to their block letter sculptures! Aren't they looking great? Today, we applied our puffy paint textures to the front sides of our letters! Also this week, we began our second sketchbook drawing: a one-point perspective room design. This drawing will be due on Thursday of next week!
Have you seen our first sketchbook drawings on Artsonia? You can
check them out here
!
7th Grade Art: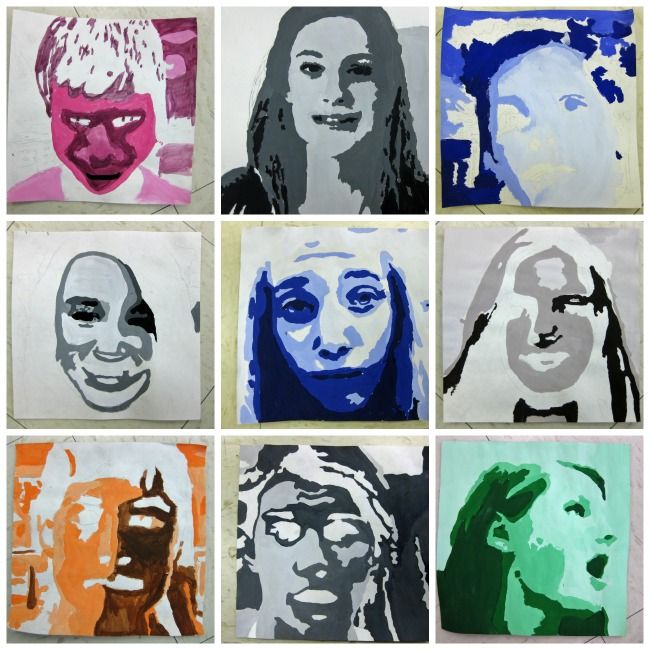 This week, seventh graders worked on two different assignments: first, they made progress on their self-portrait paintings using a monochromatic color scheme. Second, they began working on an Op-Art inspired design in black and white for their sketchbook #2 assignment, which will be due next Friday, March 28th.
You can view the results of
our first sketchbook assignment on Artsonia here
.
8th Grade Art: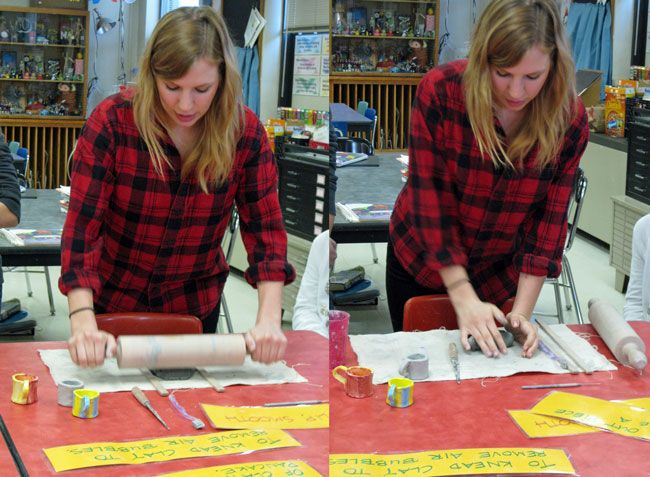 This week was the first week of Quarter 4 art! Students were introduced to our student teacher, Ms. Heuel, and were sent home with an
art letter/Artsonia permission slip
to bring back signed.
Today, Ms. Heuel showed 8th grade students how to construct a mini mug out of clay. This procedure will be repeated on a larger scale to create functional ceramic mugs, which will be glazed and used for drinking out of by the last day of art! Most of the week this week was spent planning for our large mug designs, so it was exciting to get our hands dirty today and get to begin creating out of clay. Next week, we'll begin creating those larger mug designs.
The theme of our mug project is something that you learned in school - a class concept, a subject, an inspiring teacher... it's exciting to see how these projects will turn out!
In other art news...
CREATIVITY CHALLENGE UPDATE!
Only one week left to submit your creative things to be entered to win prizes in the Youth Art Month creativity challenge contest! Here are some cool things that happened this week:
Lauren in 8th grade made these super creative shoes! I'm kinda jealous of them. So cute!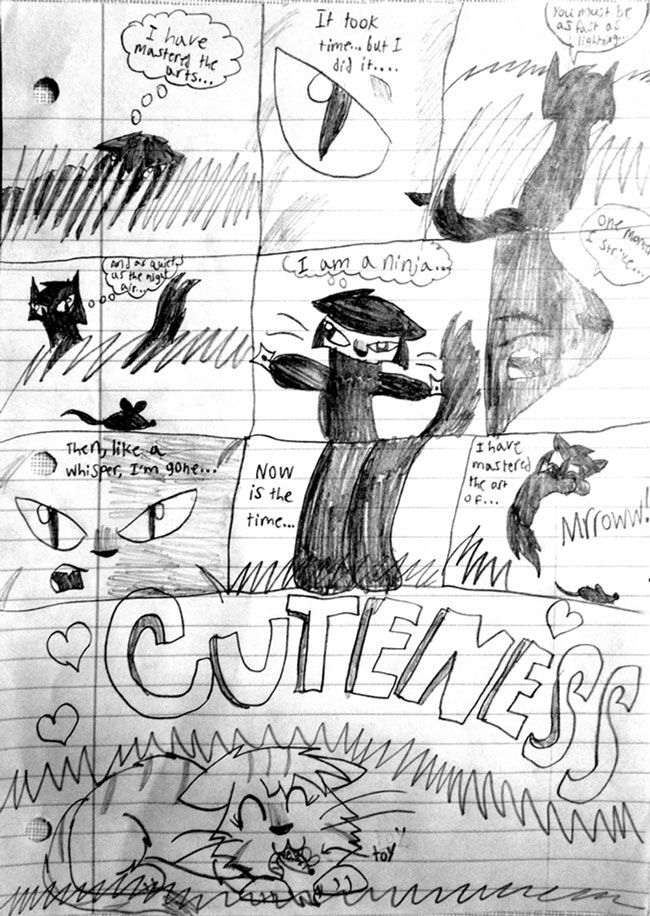 Autumn in 6th grade not only drew this amazing comic, but she scanned it, uploaded it to Dropbox, created a shortened URL, and posted it to my Google form contest entry. I think that she should automatically win MOST TECH SAVVY student! You rock, Autumn!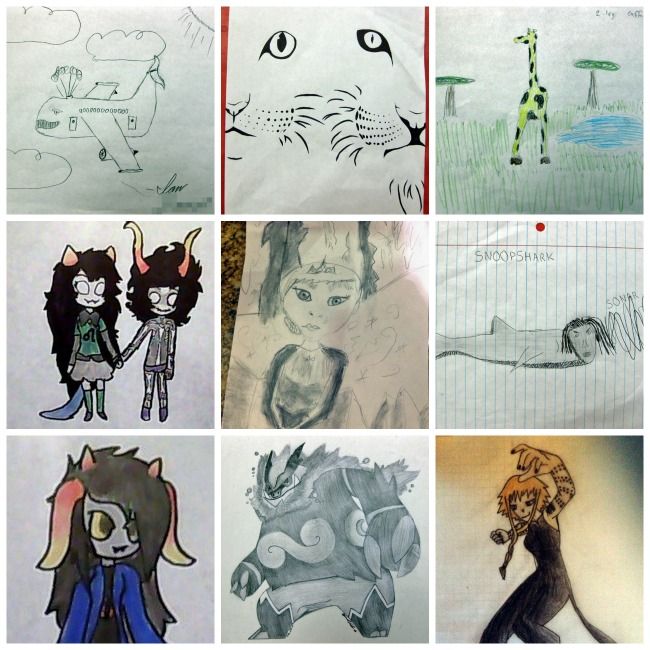 Drawings submitted (L-R, top to bottom): Ian in 8th grade, Gracie in 8th grade, John in 8th grade, Amanda in 6th grade, Julia in 6th grade, Christian in 8th grade, Amanda in 6th grade, submission with unidentifiable name, and Scarlett in 7th grade. (Yay! A 7th grade submission!)
Camille in 7th grade shared with me that she auditioned for a sketch comedy troupe this week and was accepted! It's called Unintentionally Hilarious, and performs through Elmhurst Children's Theatre. Congratulations Camille!
Mrs. Evers sent me these photos of some awesome engineering projects that were done in science class in 7th grade. (Do you think that any of these machines will grade papers for me?)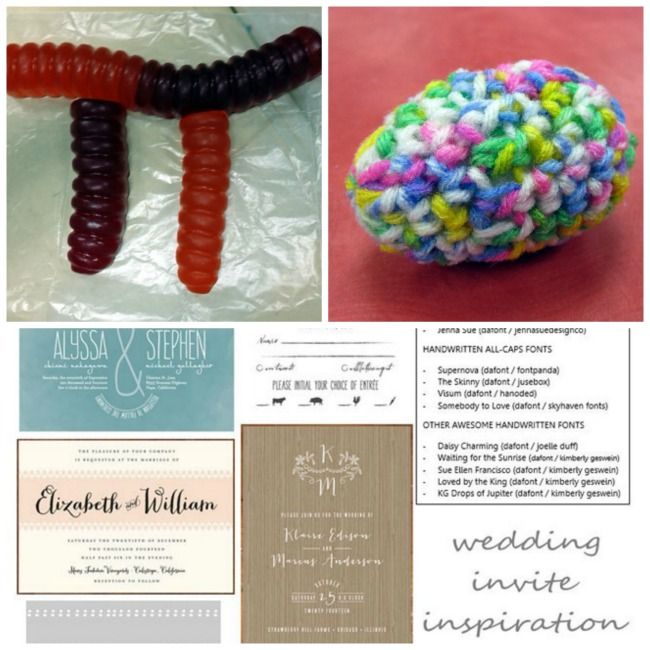 More teacher submissions! (Clockwise, from upper left) Mrs. Morser made a gummi worm Pi symbol, Mrs. Bensfield crocheted an Easter egg for Iggy (thanks Mrs. Bensfield!), and Ms. Pauly shared some wedding invite inspiration with me, as she is designing her own! Go Ms. Pauly!
I can't give a creativity challenge update without mentioning Mrs. Beg from Churchville. I think that she has single-handedly submitted more entries than all of the other entries combined! Check out this cool Tellagami video she made. She's also an amazing poet, and I'm constantly inspired by her energy! Thanks Mrs. Beg!
I'll have a video version of the weekly update sometime this weekend/early next week, so be on the lookout. You can view the past videos in playlist form on
my YouTube channel here
. And, Friday of next week is the big
CREATIVITY CHALLENGE CONTEST WINNER ANNOUNCEMENT!!!
So stay tuned! Woo hoo!
Thanks for another great week!
- Mrs. L.