6th Grade Art:
This week, 6th grade students applied paper mache to their
cardboard block letter sculptures
! It was messy, gooey, gross, and super fun! By Friday, students had finished applying the paper mache layers to their projects. Today, students are using puffy paint to create a raised texture design to the front face of their sculptures, which will be painted next week.
This week, we also began our second sketchbook assignment, a
1-point perspective room design drawing
. You can watch a
playlist of videos on my YouTube channel all about perspective here
to help you with your drawing.
This sketchbook drawing will be due on Friday, May 23rd.
7th Grade Art:
Seventh grade students worked pretty intensely this week on their
monochromatic self-portrait paintings
, as you can see from these animated gifs we made earlier in the week! We hope to get these finished up next week, and maybe even move on to a new fun project before the year is over!
On Thursday, I introduced the second sketchbook project, which is a
black and white design
that incorporates contour drawing methods to make it look like your hand is popping out of the paper! You can view some
drawings from students earlier in the year (on Artsonia) here
.
This sketchbook assignment will be due on Wednesday, May 28th.
8th Grade Art: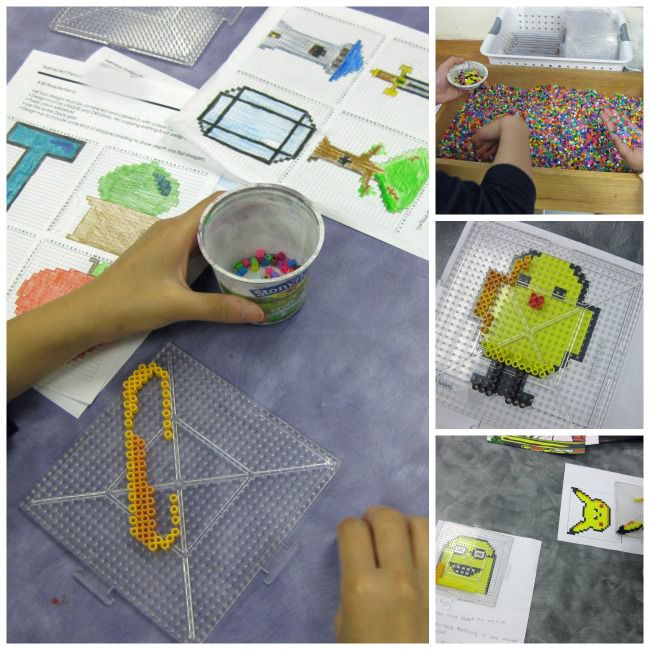 Eighth grade art is in the second half of their
8-Bit/Pixel Unit
right now, which is all about creating designs using pixels! Students are creating designs on graph paper using squares - as you can probably see, we are very much inspired by 8-bit video game design. Once students design four possible compositions on graphs, one of the designs is then created and printed out using Excel on the computer.
If students have ALL of their other artwork completed and turned in, they will then get to move on to the most fun part: creating their 8-bit design using perler beads! These tiny plastic beads are placed on a peg board, and then ironed together, which melts the plastic to fuse the design into one plastic piece. How cool!
Next week, we'll finally be photographing and uploading pictures of our
ceramic mugs
onto Artsonia, and having our mug celebration. After that, we'll take them home!
In other art news...
We're in the news! Find us in
Suburban Life today
.
Crochet club yarn-bombed my skeleton!
They surprised me with it down in the art room after school on Thursday. I LOVE all of the colors! Crochet club has named him "Bob," and some students have already started taking #selfieswithbob - ha!
Ms. Skinner (
art teacher @ Churchville
) and I have started making art how-to videos for clay projects. We hope to use these next year with 8th grade. I enjoyed getting to test out my new
iPevo articulating stand
, which I won from their
Wishpool
program. I shot the entire movie on my cell phone!
Thanks for another great week!
- Mrs. L.