6th Grade Art: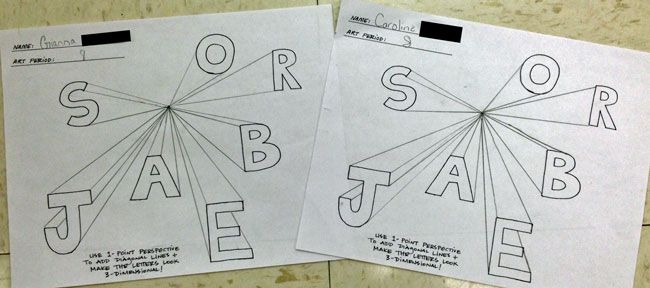 Welcome to art! This was our very first week of art in 6th grade - and for middle school! It can be hard adjusting to a new school, a whole bunch of new teachers, and expectations for all of the different classrooms. On the first day of art, I send home an
informational letter that includes a permission form
for
Artsonia
- our online student art gallery. These forms were due today, but students may still turn them in if they haven't done so yet. Need another copy? Click on the link above, or visit our
6th grade webpage
for additional copies of any/all handouts from class, including grade sheets for assignments!
In class, we are currently working on our first sketchbook drawing assignment, which is a one-point perspective name design. This finished drawing will be due next week on Friday, October 11th. You can view examples of
past student artwork for this assignment here
.
7th Grade Art:
This was also the first week of art for 7th grade (UA Term B) students! Besides the usual "welcome to art" presentation, we started our first sketchbook drawing assignment, which is a surreal landscape drawing that incorporates three boxes drawn in two-point perspective.
We looked at a lot of examples of Surrealism by famous artists, and even watched
a cool video
about it. We also checked out
a free iPod/iPhone app that gives your photos a surreal effect
: raining business men in bowler hats, a la
Rene Magritte
!
These drawings will be due at the end of next week: Friday, October 11th.
Eighth graders are nearing the end of the quarter... it's coming so fast! We're working on some 8-Bit art designs on graph paper, which will then be re-created on the computer using Microsoft Excel and printed out. These printed out designs will be used for one final project, which I'm going to try to keep a secret surprise until the last week! This 8-Bit design project has two separate graded assignment pieces: the four-graphs design worksheet (pictured above, left) and the printed out Excel design (pictured above, right).
Our third sketchbook assignment (a copy of a "master," or famous artwork) was due TODAY. Make sure your grades are in order by
checking Powerschool every week
- you don't want any missing assignments to pile up/sneak up on you at the very end of the quarter!
We will have one more sketchbook assignment to go (that's #4!) before the end of the quarter, which we will begin next week on Monday and Tuesday (10.7 & 10.8).
Lastly, have you checked out
your "Pixelated Portrait" on Artsonia
? They're pretty awesome!
In other news...
I would like to give a super-huge
THANK YOU to Mrs. Krueger and Mrs. Jardina
, who came in this week to help me out by matting a whole bunch of student artwork for an upcoming exhibition at the Elmhurst Art Museum! More info to come soon!
Thanks for another awesome week!
-Mrs. L.