We need your help! We have a student from Sandburg in the running for Artist of the Week on Artsonia! Voting ends TOMORROW, so please take a moment (no signup/login required) to go over to Artsonia and vote for Erik1261 from Elmhurst!
6th Grade Art: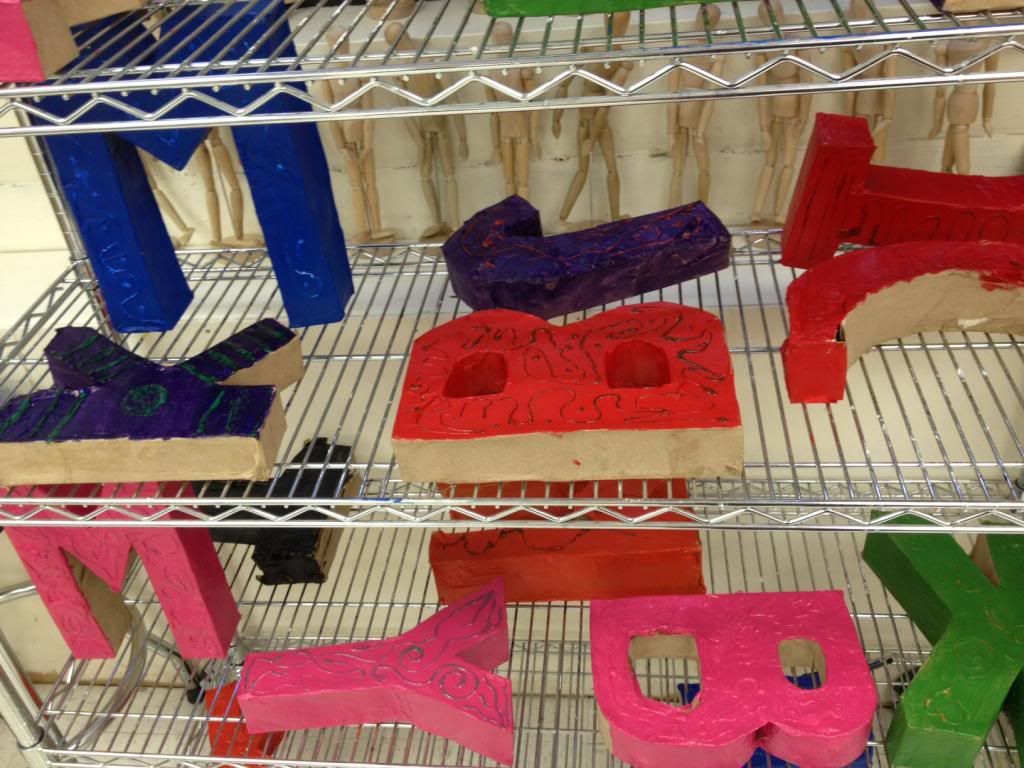 Sixth grade students are working on two assignments right now. Our first project is the letter sculpture: we're in the process of completing them - the base coats of acrylic paint are being applied, and next week we'll finish them off with a wash layer in a contrasting color to highlight the texture of the puffy paint decoration.
Our second assignment is sketchbook #2 - an interior design drawing! Students learned how to construct an empty "room" from a square sheet of paper. They now have to fill the room with furniture, objects, and art to create a "dream" room! This drawing will be due next Friday, September 20th.
Our "masterpiece"
colored pencil practice worksheets have been posted on Artsonia
. Students insisted that they wanted their work online, even though this was only a smaller practice assignment - so go check them out!
7th Grade Art: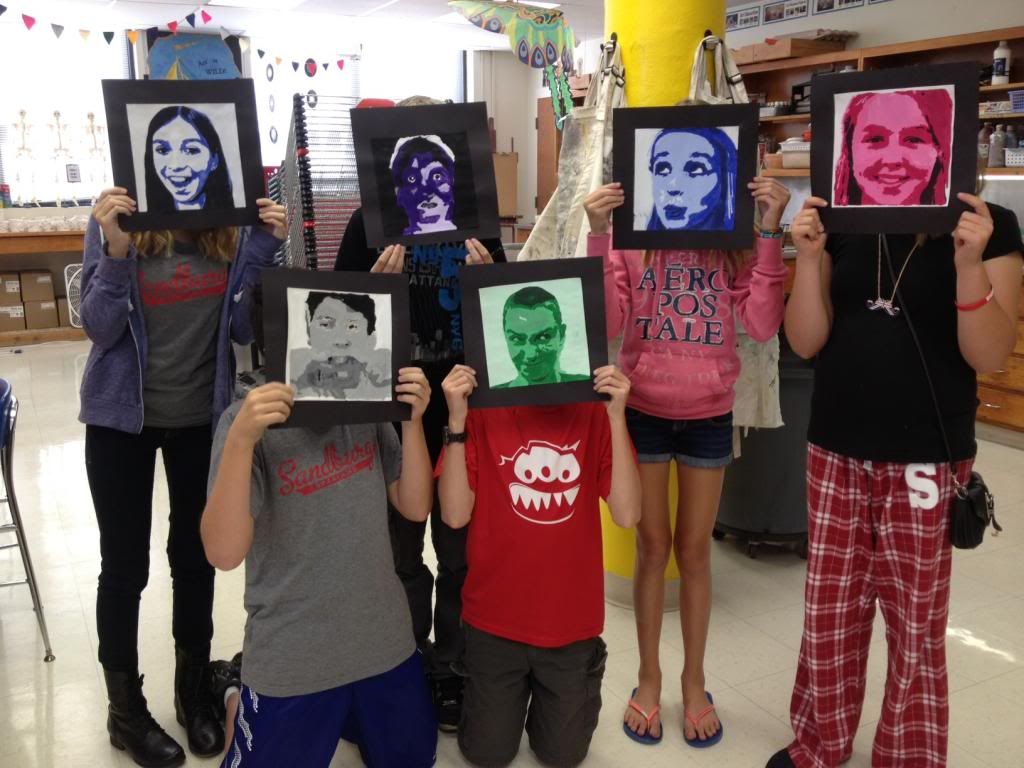 Today we finished up our monochromatic portraits, AND turned in our sketchbook #2 drawings! Don't the paintings look amazing? They'll be up on Artsonia soon, along with our Op Art sketchbook drawings, so be on the lookout!
FOR MONDAY
, seventh grade students should bring in a canned beverage for our still-life project! Students will be allowed to drink their beverage in class on Monday only. We will be creating observational drawings of the can in various stages of being crushed. Choose your beverage carefully, because that's what you'll be drawing!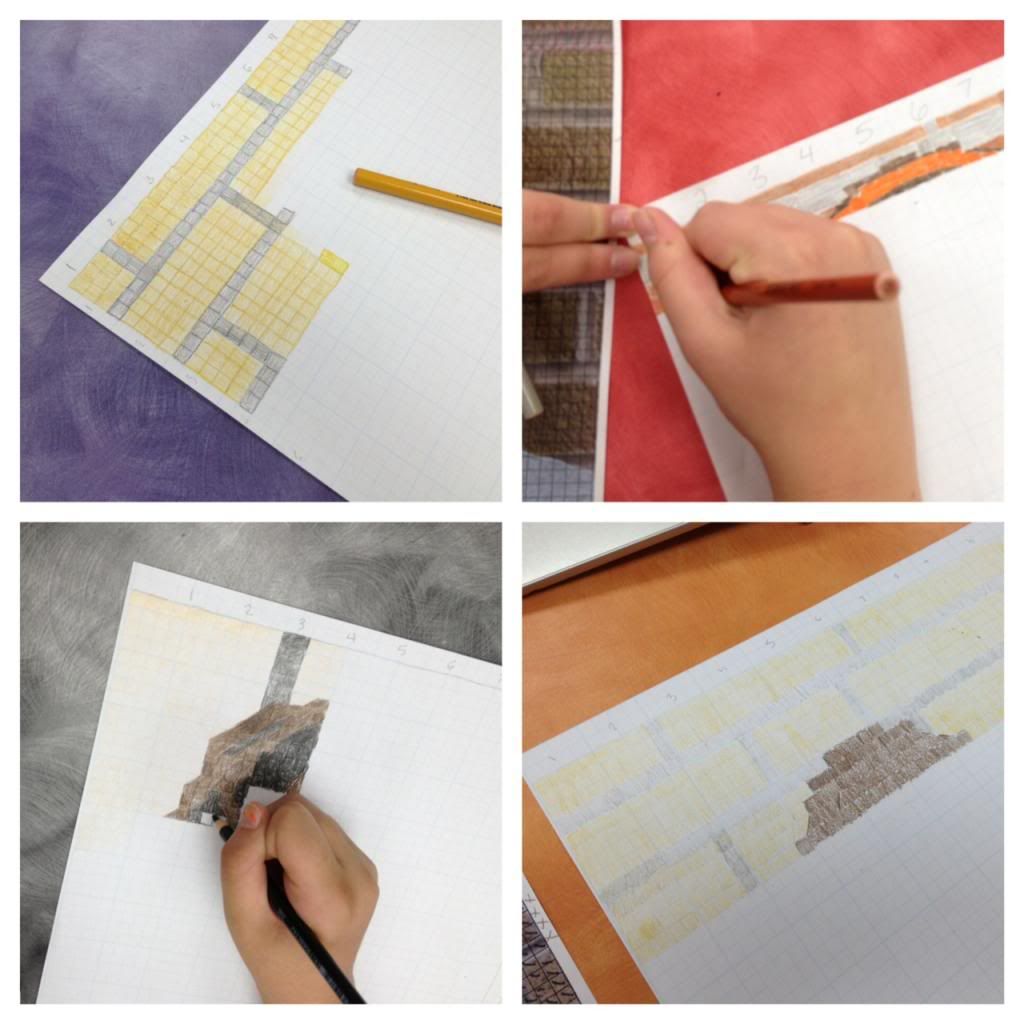 Eighth grade students have begun a new project! Students either brought in a digital (self-portrait) photo, or had a digital photo taken in class. We used Adobe Photoshop to overlay a grid on the photo and print it out. Now, we're transferring the colors of each grid square from the photo onto large graph paper; this creates a "pixel" effect on our final drawings. This project can be tricky for some students, because we're actually "simplifying" the photo - not just trying to reproduce it - and letting go of the details and ideas of what something is "supposed to look like" is pretty challenging!
A quick reminder - eighth grade students have a sketchbook drawing assignment (scene from a book) due next week on Tuesday, September 17th!
Thanks for another awesome week!
-Mrs. L.