We did not have school on Monday due to Labor Day, so this was a very fast and short week! The biggest news is that our very first exhibits went up on
Artsonia
for the 2013-14 school year! Be sure to check out
our school's gallery page
to see some amazing student work!
6th Grade Art:
Sixth grade students finished their paper mache layers on their letter sculptures this week! Today, we added textural details with puffy paint, and next week we'll start painting!
This week we also worked on our colored pencil technique by coloring in pictures of famous works of art! We practiced getting even layers of color and applying medium pressure throughout the picture. Students that mastered this technique then moved on to shading and blending/layering colors together with colored pencil. This in-class assignment will be finished on Monday.
7th Grade Art:
This week, we've gotten pretty far on our painting project! On Thursday, we discussed the topic of our next sketchbook assignment: Op Art! Our paintings AND our sketchbook drawings will be worked on in-class next week, and will be due by Friday, September 13th. Students will be allowed to choose which assignment they would like to work on each day.
We sure got a lot done for such a short week! We finished construction on our clay mugs, so now they're sitting out and air-drying, waiting to be fired! Then, we started our second sketchbook assignment: a scene form a favorite book! We discussed requirements for the drawing, and had a couple of class periods to work on it. This drawing will be due on Tuesday, September 17th.
FOR MONDAY
, eighth grade students should bring in a self-portrait photo (in digital file form) via a USB drive or an SD card to be used for our next project. Students may also email their photos to me over the weekend. Students without a digital photo on Monday will have to use a photo taken by me in class!
In other art news...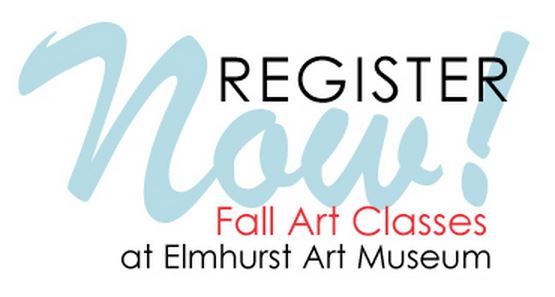 The
Elmhurst Art Museum
has just opened up registration for their new FALL CLASSES! In middle school, some of us will fall under the
Teen Classes
category, and others will fall into the
Kids Classes
(depending on age). Some really cool classes I spotted in the "Kids" category include a "Focus on Painting" class (ages 10-14), and an "After School Art Studio" program for ages 8-12. In the Teen classes, there's an amazing-sounding "Stop Motion Animation" course for ages 11-14! I think I'd really like to sign up for that one!
Thanks for another awesome week!
-Mrs. L.