I have to be honest. This was not my favorite week of art, because we lost half of our week due to MAP computerized standardized testing for reading and math. Taking students out of art and PE (and other "specials"/UA classes) is, as an art teacher, a decision that I wholeheartedly disagree with. But you could've guessed that. I've posted the actual schedule above so that you can see how often we did (or did not) meet this week - if you can decipher the schedule, that is! Ha!
6
th Grade Art: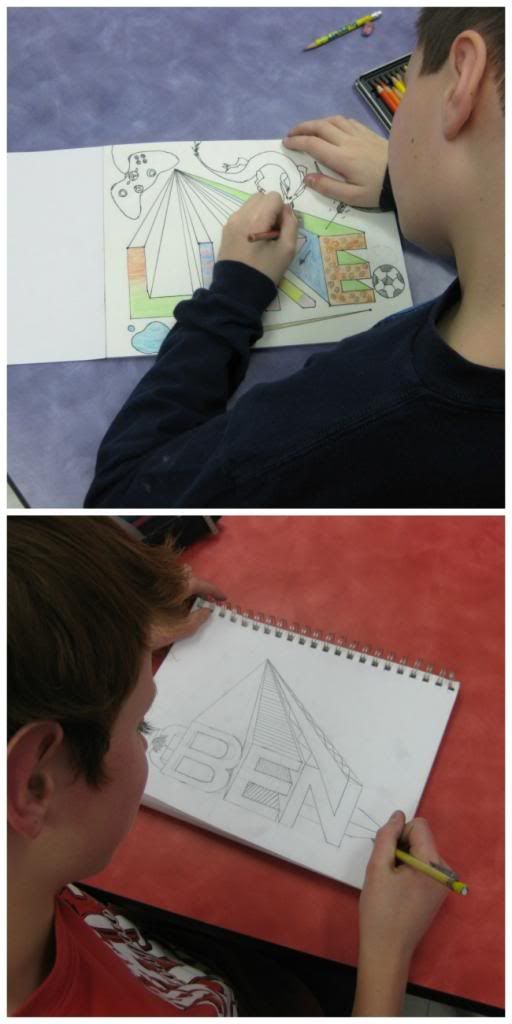 This week, we began our first sketchbook assignment. We are drawing our names in block letters, and then using one-point perspective lines (diagonal lines that converge at one vanishing point) to make our names look three-dimensional. Students are encouraged to add lots of pictures, symbols, and patterns to make the designs super creative, colorful, and expressive.
On Thursday or Friday, students had a double period of art class. We worked on our name designs for both class periods! Any work not finished by the end of class should have been taken home for homework, as this drawing is
due when we return from our three-day weekend on Tuesday, January 21st!
7th Grade Art:
These are sample surreal landscape drawings from last term. Ours will go up on Artsonia, too!
This week, students worked on their first sketchbook assignment, which is a surreal landscape that incorporates boxes drawn using two-point perspective technique. It's a natural extension from the one-point perspective lesson we drew in sixth grade. We spent time in class looking at some really crazy weird surreal artworks, and dreaming up some strange scenes for our drawings!
On Thursday or Friday, students had a double period of art class. We spent the whole time working our our drawings! If students did not finish this drawing in class, it should have been taken home for homework.
This drawing is due when we return from our three-day weekend, on Tuesday, January 21st.
8th Grade Art:
On Monday, eighth grade students met in the auditorium to hear presentations from the elective teachers at York high school. These departments included art, music, family & consumer sciences, industrial technology, and business. Counselors from York will be coming to Sandburg in early February to help eighth grade students choose classes for next year, so it's really great for students to know about what is available to them at the high school level. I wish I could take art classes at the high school!
On Thursday or Friday, students had a double period of art class. We spent the entire chunk of time working on our sketchbook #1 assignment, which will be
due on Tuesday when we return from our 3-day break!
This drawing is the profile tracing "zentangle" that we started
last week
. This drawing will be our first work of art as eighth graders to go up on our Artsonia gallery!
In other art news...
I have THREE awesome things to share:
1.
We raised $205 for UCCA through our mini-mugs sale this holiday season!
I'm in the process of getting the money to them right now. Way to go, 8th grade! And an extra-special thank you to Elijah's Coffee in downtown Elmhurst for hosting our mini mug sale during the holiday season! Today I met with Mrs. Sands to give her the money that we raised!
2.
According to this article from io9, people who doodle learn faster!
Yayy art!
3.
Have you heard of Art Snacks?
It's a subscription box ($20/month) where you receive 4-5 full sized art supplies. Basically, in their words, "We send you cool stuff to draw with." It's so popular right now that there's a waiting list! I just got my invite on Wednesday night, and I signed up right away. I'm so excited for my first box of art supplies! What a great idea!
Thanks for another great week!
- Mrs. L.