This was the last day of art for "Term E" art classes (6th & 7th grades). Monday starts our final group of students for the year - wow!
Also, today after school I will be at the
Elmhurst Art Museum
for our K-8 Art Exhibition reception from 3:30 to 5:30 pm. It's so fun to see our students work on display in a real art museum!
6th Grade: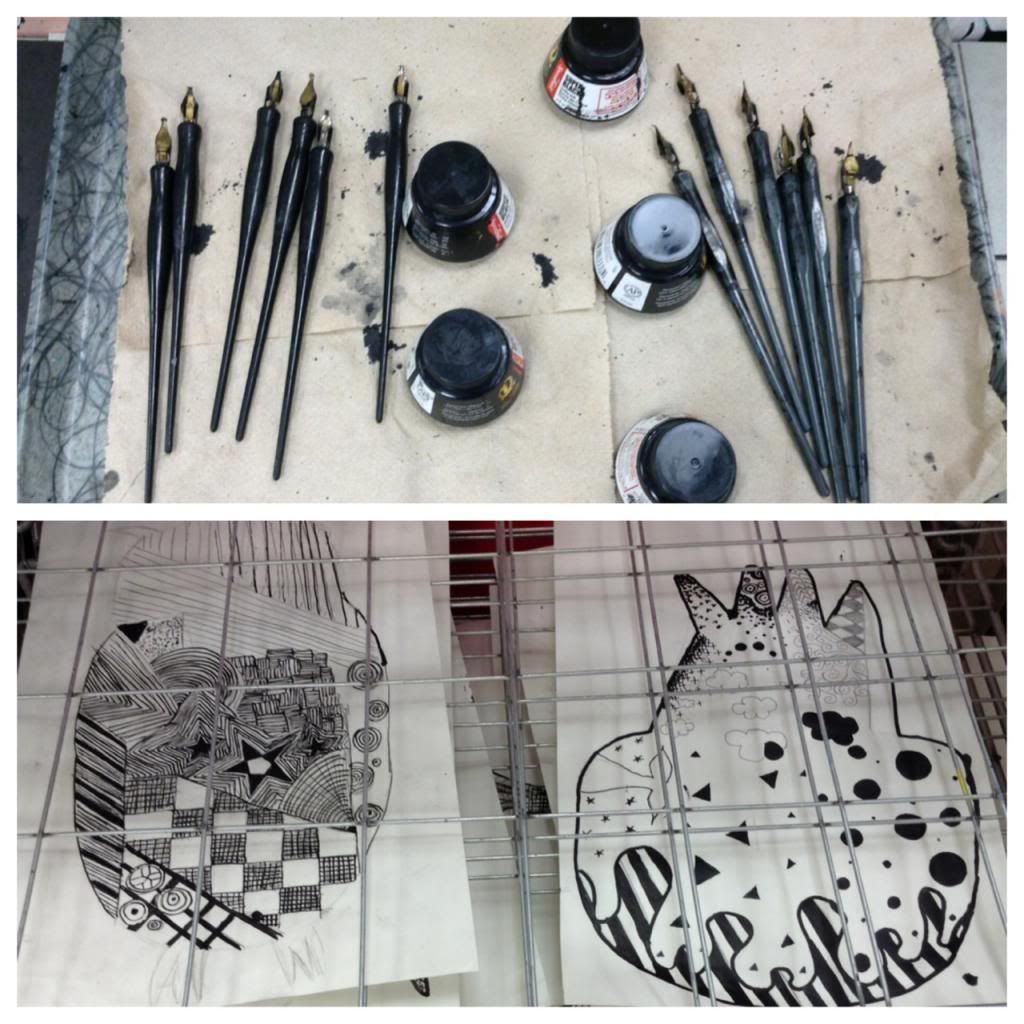 This week was spent finishing up our pen & ink animal drawings. Students had to incorporate a variety of drawing techniques and patterns into their final images. They also had the added challenge of mastering two different kinds of pen tips! One was wide and round, perfect for creating large dotted patterns and bold, wide lines. The other pen was small and narrow, perfect for fine details and thin line work. I can';t wait to show off our final pieces on Artsonia!
This week, we brought our letter sculptures home. Hopefully, your student's work made it all the way home! If it is suspiciously missing, be sure to check it out
on the Artsonia gallery
.
7th Grade:
This week, students turned in their final sketchbook drawings (the comic square enlargement) and began one final drawing: an oil pastel enlargement of their pop can (either the first or second stage of the evolution drawing). It was fun to get to try out a new media, as we haven't used oil pastel in middle school art before. Oil pastel can be easily smudged and blended to create bold shadows and accent colors. We drew these pictures on black paper for added contrast! I plan to display these drawings in the school in the next few weeks.
All pop can "Evolution" drawings have been sent home. If you haven't seen your student's drawing, you can check it out on
our Artsonia gallery here
.
8th Grade:
This week, we finished up construction on our large mugs, which will be glazed after they are fired. I also fired all of the "mini mugs" we made last week. These tiny mugs will look really cute after they've been glazed and decorated alongside the large mugs.
Next week, we'll be starting a new project! This will allow our clay time to dry before it is fired. Air dry time is important with clay. If clay is put into the kiln while it is still wet, it can explode in the kiln, causing damage to any projects around it (besides destroying the original project as well). So much to remember when working with clay!
In other news...
Now is the time to start thinking about art classes for spring and summer! If you're interested in working with clay, a fun local business to try is
Wild Bird Pottery Studio
. There are youth workshop classes for ages 8-18 after school, and a 5-day summer session that includes working with the pottery wheel. How fun!
For full details, or to register, visit the
Wild Bird Pottery Studio website
.
Thanks for another great week!
-Mrs. L.