6th Grade Art: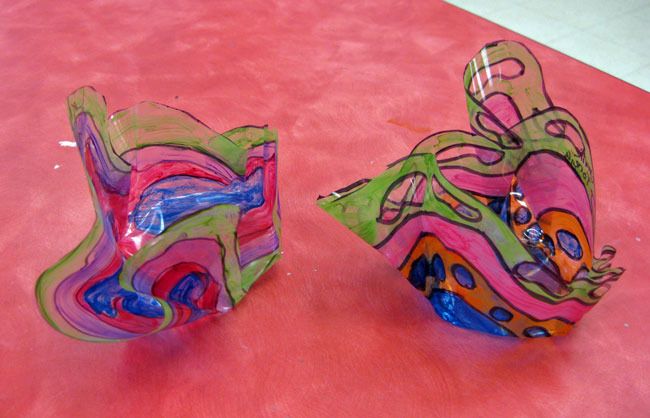 Chihuly-inspired abstract sculptures by Patrick and Charlie
"Hi my name is Charlie and I'm writing this blog post with Patrick. Today we made plastic Dale Chihuly inspired flowers, we melted the plastic to make a flower shape. They looked great with all the colors, the day before we made a pattern on the plastic, then we painted it. We both had lots of fun making these super cool Dale Chihuly inspired flowers, and we recommend it to anyone. Later we will hang them on the ceiling of the lunchroom."
- Charlie T & Patrick S, Period 9
7th Grade Art: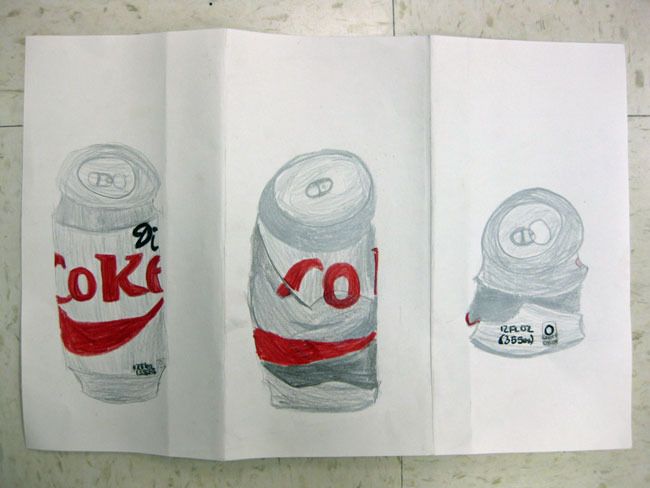 Carissa's "Soda Can Evolution" drawing
"This week in art we worked on drawing still life. We drew soda in different stages. The project is called soda can evolution. When it is normal, next half crush, and then crushed all the way. We learned how to shade shadows, mid tones, and highlights."
- Carissa R, Period 4
8th Grade Art:
Eighth grade students are working hard on their clay choice projects. We're still going to work on building with clay for one more day next week, and then we'll be setting our clay out to dry and prepare for firing. Students who finish building early have the opportunity to make a bonus "free clay" item!
In other art news...
Today is the last day of "E" term art for 6th and 7th grade art classes - it's hard to believe how fast the school year has flown by! On Monday, the last groups of 6th and 7th graders will begin art class.
Friday, May 1st will be the reception for our annual K-8 art exhibition at the Elmhurst Art Museum. Sandburg contributing artists will be announced soon!
There is a contest going on right now for all 8th grade students to design the cover of our promotion ceremony program - all entries are due to me by Wednesday, May 6th!
Thanks for another great week!
- Mrs. L.