Last week was Thanksgiving and Parent-Teacher Conferences, so we did not have a blog post. But now we're back! (Well, for a few weeks until winter break at least...) Check out what happened this week:
6th Grade Art:
Here is Jack's finished sculpture!
"This week in art we focused on painting our 3D letters. We worked on blending paint and applying all over patterns to them. For my sculpture I did red and black paint for the Chicago Bulls. I kept my all over pattern basic by just doing dots but changing color depending what the background is."
-Jack R, Period 8
7th Grade Art:
Conor's black and white portrait painting is finished!
"Over the past few weeks, we made portraits of ourselves and we used Photoshop. I liked this project, but it was a lengthy one. Since we got to choose the colors we wanted, I chose white and black because they go together well."
-Conor L, Period 5
another 7th grade student works on his painting project
8th Grade Art:
Samantha's mug is looking so cute!
"This week in art class we have been working on glazing our clay projects. For my clay project I chose to do a mug. I'm still working on my mug, but I'm making good progress. My mug's theme is under the sea."
-Samantha H, Period 2
In other art news...
Our food pantry/
UCCA
fundraiser is now going on at
Elijah's Coffee Shop
in downtown Elmhurst! This year, we're selling crocheted coffee cup sleeves made by members of the Sandburg Crochet Club. For $5, you can own your own handmade sleeve (or buy them as gifts for others!) and all of the profits will go directly to the local food pantry via
United Community Concerns Association
. This sale will be going on from now through winter break (early January).
You can read about last year's UCCA fundraiser on their
news page here
.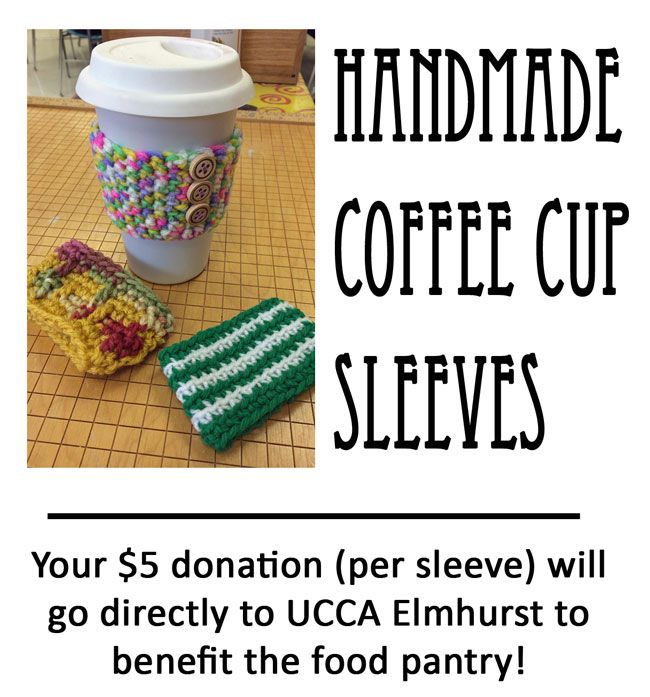 Education Week has published a whole
series of articles and commentaries on the importance of arts education - read them here
.
Thanks for another great week!
- Mrs. L.