6th Grade Art: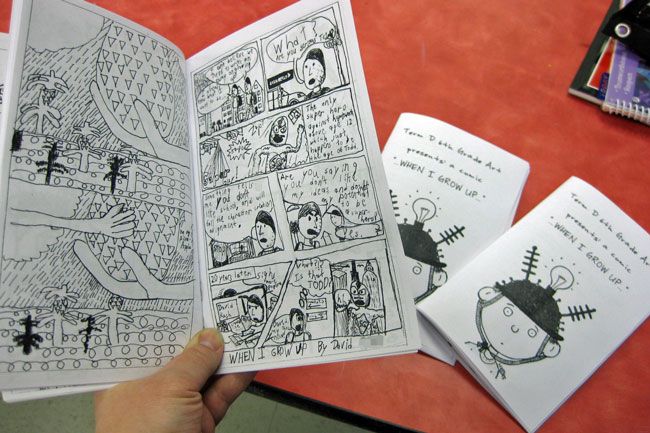 Today we celebrated the last day of 6th grade art
with the debut of our comic book! Our theme was "When I Grow Up..." and each student drew a page in the book. Each student will bring home a copy of the book today! This project gave us the opportunity to demonstrate our skills in using hatching, crosshatching, stippling, and doodle drawing techniques when using ink to draw pictures.
Also, be on the lookout soon for a .pdf version of the comic (it'll be on the
6th grade art webpage
) which you can download to iBooks and read digitally!
7th Grade Art:
We spent an intense week in 7th grade, working hard on our observational drawings of pop cans. We wanted to accurately represent the shadows and highlights of a crushed can in 3-dimensions. It was hard, but I think that we were pretty darn successful! Finished drawings were turned in
today, on the last day of 7th grade art.
Be on the lookout for grades to be posted soon, and photographs of the final drawings to be published on Artsonia.
Students who finished with enough time remaining wrote artist statements about their pop can drawings, which will be posted alongside their artwork on Artsonia. I think it's really cool to get a glimpse into the artistic process and to get to read a little on how students reflect back upon their work!
8th Grade Art: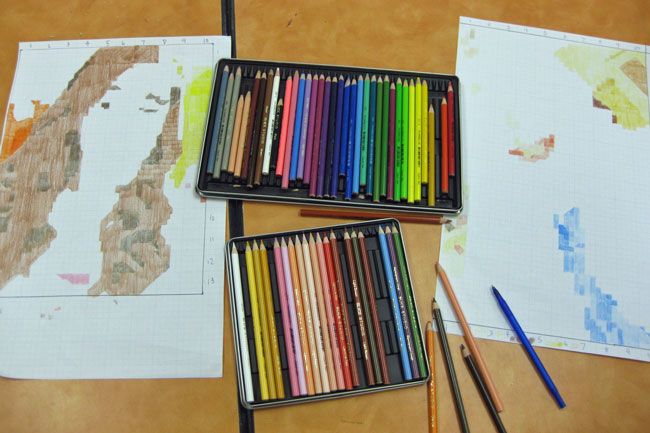 Eighth grade has been hard at work on their pixelated portrait project! It is very labor- and time-intensive! We probably have about a week's worth of work time left before we can call these drawings finished, but we'll be taking a break next week to glaze our ceramic pieces. Then we'll come back to finish these beautiful drawings - I'm so excited by the progress that I've seen so far!
This drawing is challenging for students at different levels for a variety of reasons. Detail-oriented students have a hard time "ignoring" the details and abstracting the face into squares and half-squares (aka the "pixels"). Even students who struggle with drawing can find it hard to look past the parts of the face - "does this LOOK like an eye? will this LOOK like a mouth?" - and just concentrate on the colors in each individual square.
"Trust the process," I keep telling the students. "It works!" And those who do, find some pretty amazing results!
In other art news...
Elmhurst Art Museum has a Family Workshop this Saturday (tomorrow) at 10:30 am
with artist Monica Wulfers that is free with your admission! This workshop, inspired by the artist's own work, will keep your brain limber and your neurons firing as you explore the intersection of math and art. Learn about grids, lines, points and number values through drawing and games. Ages 5 and up with adult.
Here is a cool article
about artist Judith Braun and how her artwork ended up on the snowboard of an Olympic medal winner in Sochi!
Lastly,
Doodle 4 Google 2014
is now open! We'll be drawing designs in class on Monday with the new 6th and 7th grade classes, but the contest is open to ALL students! If you are interested in entering, please print off a form
here
. I'll gladly submit an entry for any student with a completed entry - the deadline is March 20th!
Thanks for another great week!
- Mrs. L.