6th Grade Art:
We started off this week by turning in our second sketchbook drawing assignment: a
1-point perspective room design
. We then finished up our
paper mache letter sculptures
, and then photographed them for Artsonia! Thanks to the new classroom mode on Artsonia, students were able to use the iPads to take their photos and upload/title their work, all from one device! Be sure to check out our
Artsonia exhibits
for both assignments to see how the final products turned out!
Tuesday through Friday was spent learning and practicing drawing techniques, such as hatching, cross-hatching, stippling, and doodle to show value on a form. Next week, we'll be utilizing these new skills to create our own class comic book!
Today, paper mache letter sculptures were sent home with students – so be on the lookout for the real deal to arrive!
7th Grade Art: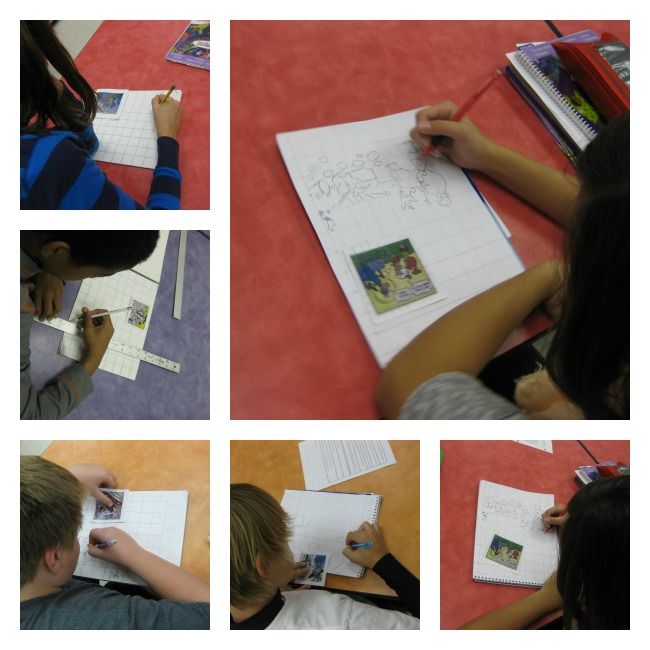 Seventh grade art classes also started out their week by turning in a sketchbook assignment: an
Op-Art-inspired black and white drawing
. The rest of the week was used to work on two additional projects: our monochromatic painting, and our third sketchbook assignment. The third sketchbook assignment is a comic panel enlargement using the "grid method" to reproduce an image. This drawing will be due next Thursday, November 7th.
Next week, we will finish up our paintings, and make one more drawing before the last day of art class (next Friday! Eek!).
8th Grade Art: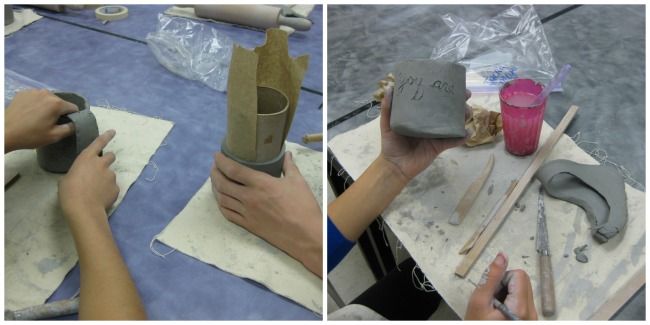 This week was clay-crazy! On Monday and Tuesday, we made mini mugs as a practice for our larger mug project. Wednesday was spent perfecting our sketchbook drawings (a black and white profile zentangle), which was due in class today. The remaining two days was spent on starting our final large-sized mugs, which will be decorated, fired, glazed, and fired again to make them functional! So cool!
Next week, we'll be starting our next sketchbook assignment: a drawing of a favorite book scene. Can you tell we've got a whole literature-theme going?
In Other Art-Related News…
Tonight is the big "Arte at Nite" event in downtown Elmhurst! You can stop by
Elijah's Coffee
and pick up a mini mug made by 8th grade art students for $5 – and all of the money will go to the
UCCA
Food Pantry! It's a "win" all-around!
Can't make it to Elijah's tonight? No worries - our mini mugs will be on sale throughout the holiday season, and you can purchase them at the downtown Elijah's location through January. All proceeds will continue to benefit the UCCA Food Pantry.
Blue Lake Fine Arts Camp
representatives will be visiting Sandburg and holding auditions/tryouts for summer camp scholarships. Any student who auditions will be considered for scholarship aid toward tuition to attend the camp. This visit will take place at Sandburg on November 18th and 19th. You are encouraged to visit Blue Lake's website at:
http://www.bluelake.org
to learn more about the camp.
Art students will have the opportunity to audition during mornings and/or during the day by appointment. These appointments will be coordinated at Sandburg by Rico Vazquez, one of our band directors. For further info/appointments, he can be reached via email at
rvazquez@elmhurst205.org
A new
Art Institute of Chicago
exhibit opens November 12!
Art + Appetite: American Painting, Culture, and Cuisine
is the theme of this exhibit. Feast your eyes on the rich tradition of food and drink in American art with over 100 paintings, sculptures, and decorative arts from the 18th through the 20th century and discover how American artists have used depictions of food to both celebrate and critique everything from the national diet to society and politics.
Thanks for another great week!
-Mrs. L.