6th Grade Art:
Today was the last day of art for 6th grade Term B classes. It sure went by fast! This week was spent creating our class comic book. Each student was responsible for drawing one page in the final book, and our theme was "Best Day Ever." On the last day of class, we read our final comic book and collected autographs from our classmates!
Good luck on Monday in your next UA class!
7th Grade Art: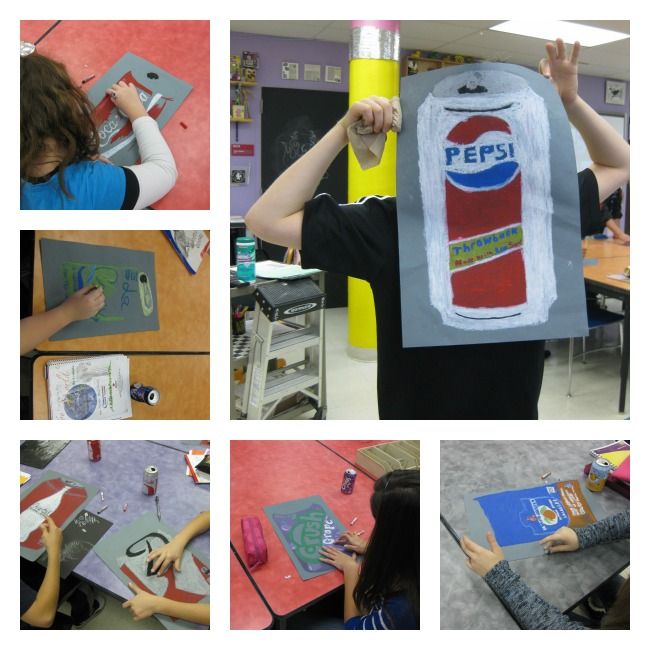 This was our last week of Term B art class. Because our term was cut so short by Outdoor Ed, our usual still life unit (the pop can drawing) was cut short, and we chose to draw one large image of the pop can using oil pastels.
On Thursday, our final sketchbook drawing (comic grid enlargement) was due. Look for those drawings to show up soon on Artsonia, as well as two other art projects: monochromatic paintings and pop can drawings!
8th Grade Art:
This week was mostly spent on clay, and finishing up our construction on our large clay mugs, which will be fired, then glazed, and then fired again. On the last day of art (not 'til December!), we will have a hot chocolate celebration using our special new mugs!
We also started our second sketchbook drawing assignment, which is a drawing of a scene from a book. This assignment is due next Friday, November 15th.
Next week, we will be starting our self-portrait project: students will have to bring in or e-mail me a photo of themselves for this project! Full details to come on Monday.
In other art news...
The Rijksmuseum Holland had an idea: Let's bring the art to the people and then, hopefully, they will come to see more - at the museum. They took one Rembrandt painting from 1642,
The Night Watch
, brought to life the characters in it, placed them in a busy mall - and the rest you can see for yourself!
Thanks for another great week!
- Mrs. L.