6th Grade Art: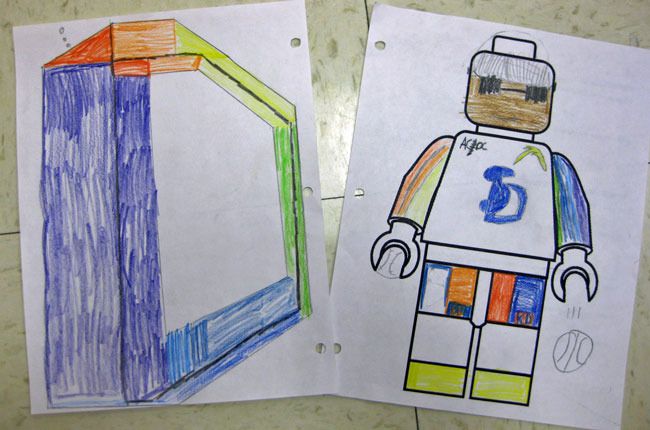 Diego's drawings!
"These are two of my drawings for art. This are the Rainbow D and A self Lego Portrait. I like both of these drawing for two reason. I like the Rainbow D because of the 3D part of it. I like the Lego Portrait because it shows my type of person."
- Diego N, Period 8
7th Grade Art:
Joel's project is almost ready to begin the final painting stage!
"What we did in art this week was mainly around the self portrait Monday we worked on pictures to make them black and white and to give it only 4 shades. Then we worked on painting colors in a scale by adding either white or black to make or lighter or darker. Now we are finishing up transferring the picture to a white piece of paper in an outline form then next we will paint. Bye."
- Joel C, 4th Period
8th Grade Art:
This week, 8th grade students continued to make progress on their pixel portrait project, while their ceramic pieces were fired in the kiln. Students photographed their finished ceramic pieces for Artsonia when they were finished - you can check out our
ceramics gallery on Artsonia here
.
On Friday, we had a mini end-of-ceramics-unit celebration before taking our projects home. The cafeteria let us borrow their hot water percolator and we had some hot chocolate in our handmade mugs! Fun fact: did you know that these ceramic creations are dishwasher safe? The kiln gets to almost 2000 degrees, so your piece will surely stand up to dishwasher heat!
In other art news...
Let's connect! Are you following the
Sandburg Art Room on Instagram
? I post fun facts and images from student work and the classroom several times per week. This week, we experimented with a time-lapse video of an 8th grade student working on her drawing.
Today is
Take Your Action Figure to Work Day
!
Did you celebrate
? I did:
Thanks for another great week!
- Mrs. L.